Bic Camera- Japan's Best Shopping!
Bic Camera is a true Japanese institution. Just hum a few bars of the theme song and someone will shout "Bic Camera"! Despite the name however Bic Camera is not only cameras. In fact it's Japanese best overall electronics/computer/toys/ alcohol & computer store. And it's everywhere- downtown Tokyo, downtown Osaka, downtown Kyoto- even Narita & Haneda airports have Bic Camera stores.
And to whet the appetite further they are continually expanding. Last count we took they had 48 stores- with lots more if you count the Sofmap subsidiary chain of shops.
Shopping HQ- Downtown Tokyo
The flagship store remains that of Yurakucho Honkan (near Tokyo station) and offers a cornucopia of choice. There's no point in us even trying to help you with this one. Quite often there's a loud man outside on a microphone screaming the latest offers but with multi-level high intensity shopping awaiting you so we'll keep our message simple.
15% Off- For Mobal Users
Mobal users who live overseas automatically enjoy 8% tax-free shopping at Bic Camera. But we've gone one better. With this coupon you can now get an additional 7% to get 15% maximum off your Bic Camera shopping bill!
Coupon valid until end of April 2020 – Happy Shopping!
Note: a Passport with Valid Tourist Visa must be shown at time of purchase
Click on the coupon below to expand.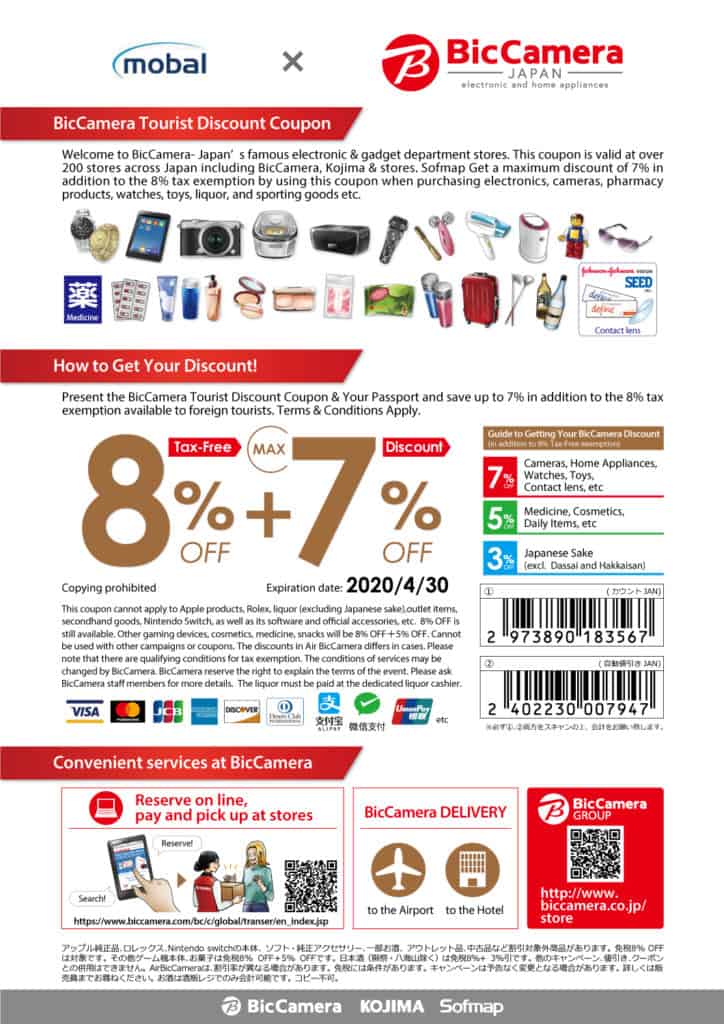 Thanks to the people of Japan and the efforts of a UK-based telecoms company Mobell/Mobal am happy to assist in providing a hot school meal daily for kids in Malawi, Africa through a Japanese registered NGO- Seibo.
2 Replies