Jongdari vs Kyoto!
As Typhoon Jongdari surged towards mainland Japan, I had a big choice to make: cancel my weekend trip to Kyoto, or go anyways and hope for the best. Despite concern from friends I took my chances and opted for the latter. Every frantic check of the weather forecast came up with different results, confirming that I could be heading blindly into the eye of the storm. As I boarded my overnight bus to Kyoto, I was determined to make the most of my weekend no matter what.
Making Landfall
Stepping out into Kyoto at 6am on Saturday morning, I was met by an overcast sky. Although the sun did not make an appearance, I was able to escape the rain that inundated Tokyo throughout the day. With my Kyoto Bus Day Pass in hand, I visited Arashiyama, where I went to the monkey park as well as the bamboo grove, both of which I would highly recommend, followed by a number of other shrines in the area. After a day filled beautiful sights, and some delicious ramen, I retreated back to my capsule hotel, with perfect timing to avoid the rain that had begun to fall.
Rain Rain Go Away!
On Sunday morning, the rain caught up with me. As I walked through the torii gates at the Fushimi Inari shrine, I was met with a thick cloud cover and unrelenting rain. I was able to dip into a local shop to buy an umbrella, and continue on my way in a sea of umbrellas. Luckily, this weather did not last long and cloudy blue skies emerged as I descended Mount Inari. I explored the Nishiki Market and surrounding areas in my last few hours in Kyoto, eating delicious street food and way too much black sesame ice cream.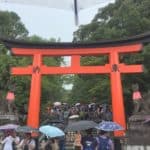 Looking out the window at a rainbow on my very first bullet train ride, I had no regrets about my decision to go to Kyoto. All it took was 48 hours- a little bit of luck and a cheap umbrella! 
Travel Tip
For 600 yen you can get the Kyoto Bus 1-Day Pass- this handy pass made movement easy & certainly paid for itself! Totally recommend!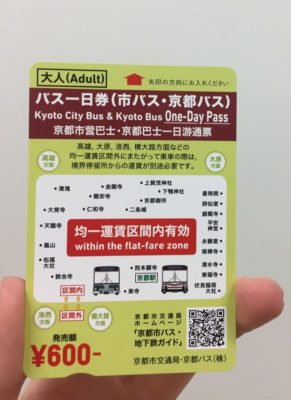 This blog post was written by Mobal intern Lindsay Hofen as proof she survived 😉