When the frosty weather tosses off its wintry coat like a wet dog shaking off water, when the perfect mildness of spring kisses the tall buildings of Tokyo, that's when pink snowflakes fall from the sky. This ethereal phenomenon is called hanafubuki and is often translated as "a cherry blossom blizzard." From late March through mid-April, these soft, rose-colored petals fall from their mother trees and gloss Japan in a thick layer of pink lacquer, transforming it into a pastel wonderland that is so exquisite, one cannot accurately describe it in mere words.
Cherry blossoms, or sakura as they are so called in Japanese, are classically identified as a national symbol of Japan and play a monumental role in both the country's culture and its history. They are the sole topic of many famous poems and songs, one of the most prominent being the pangram, Iroha, which begins as follows:
Although its scent still lingers on
the form of a flower has scattered away
For whom will the glory
of this world remain unchanged?     
As the melancholy poem describes, the iconic sakura ‒ so beautiful and nothing less than magical ‒ disappear almost as fast as they come. Their splendorous blossoms bloom for but a short two or three weeks before they dissolve like morning dew on blades of hot summer grass. Then, they are scattered in the wind, tossed to and fro until they appear again the following spring. It is for this reason that the well-loved cherry blossoms act as an enduring metaphor for the ephemeral nature of life.
Traditionally, Japan and its culture has placed a heavy emphasis on just that ‒ the temporary nature of everything in life. This is particularly applicable when it comes to the dazzling and distinct four seasons that the Land of the Rising Sun experiences. The seasons bring an unparalleled and unique beauty with them that, not unlike the cherry blossoms, seem to be gone before one has had the chance to fully appreciate them.
Because of this, it is vital for tourists to understand the timelines associated with each of Japan's wonderful seasons. Spring, summer, fall, and winter ‒ each has its own particular draws and disadvantages. But since the archipelago is a patchwork of various climates, the islands of Japan are ever-changing. This means that no matter when you visit, you will be sure to see beautiful scenery year-round.
Spring / 春 (March to May)
Due to the blooming of the cherry blossoms, springtime in Japan is a cotton candy fairy tale that captures the attention of both international visitors and locals alike. As is often the case with the weather, it is hard to predict exactly when the heavenly sakura will begin to blossom. In Okinawa, the southernmost part of Japan, the sakura are in full bloom as early as February. In the much more tepid Tokyo, however, the first bloom begins in late March.
If you have your heart set on a picnic beneath a pink cherry blossom sky during one of your visits to Japan, it would be best to check out this website, created by the Japanese National Tourism Organization (JNTO), in order to get an accurate sakura forecast.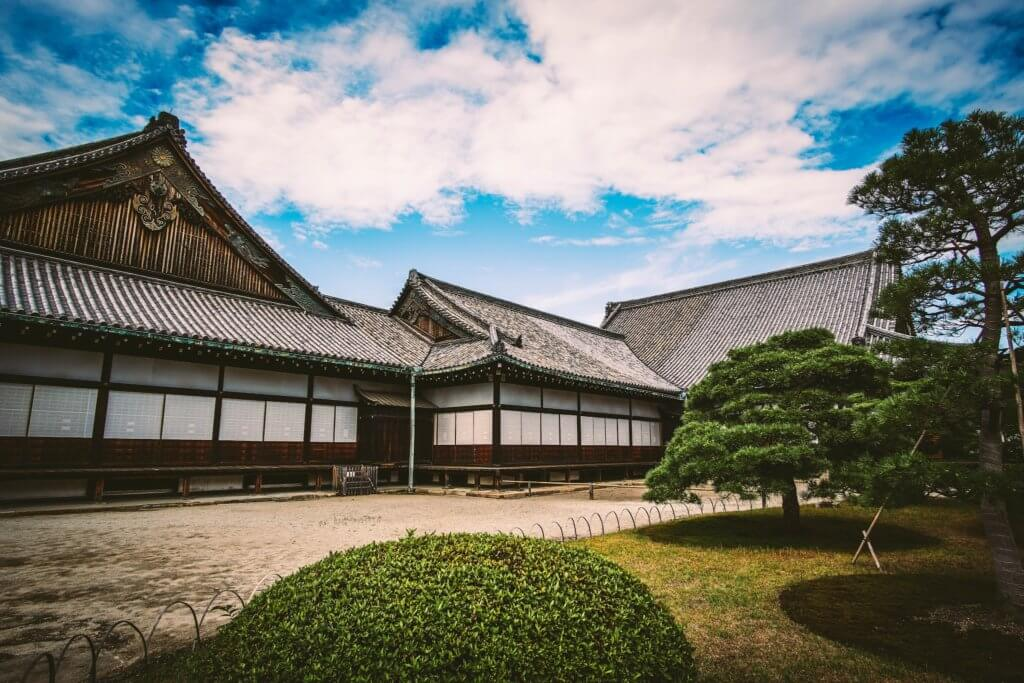 Summer / 夏 (June to August)
After the cherry blossom blizzards have blown by, the temperatures start to rise and it is around this time that Mother Nature awakens from her seasonal slumber in full force. She breathes a warm sigh on all of Japan and transforms it into a lush, green landscape that is perfect for exploring the outdoors.
As you walk the bustling city streets, you will no doubt hear the melodic singing of a cicada choir. These bugs, though loud, are completely harmless and create the perfect summer soundtrack for your Japanese adventure. Take a moment to buy a refreshing cup of shaved ice, which is the preferred treat of the season, and enjoy the relaxing sounds of a Japanese summer.
Let me blow up the fine print for you though. Although this season is a great time to visit temples, shrines, and castles; participate in festivals; watch fireworks; and just experience the full beauty that is Japan, there are some drawbacks. The first is the short rainy season (called tsuyu in Japanese) which kicks off the summer and lasts from June until early July. If you are planning on visiting during this period, you may need to have a few indoor activities stuffed up your sleeve. But don't worry, all the major cities offer a plethora of shopping areas and interesting museums to occupy your time with on a rainy day. Another thing to watch out for is the intense heat characteristic to the area. Make sure that you drink lots of water and take lots of breaks in the shade!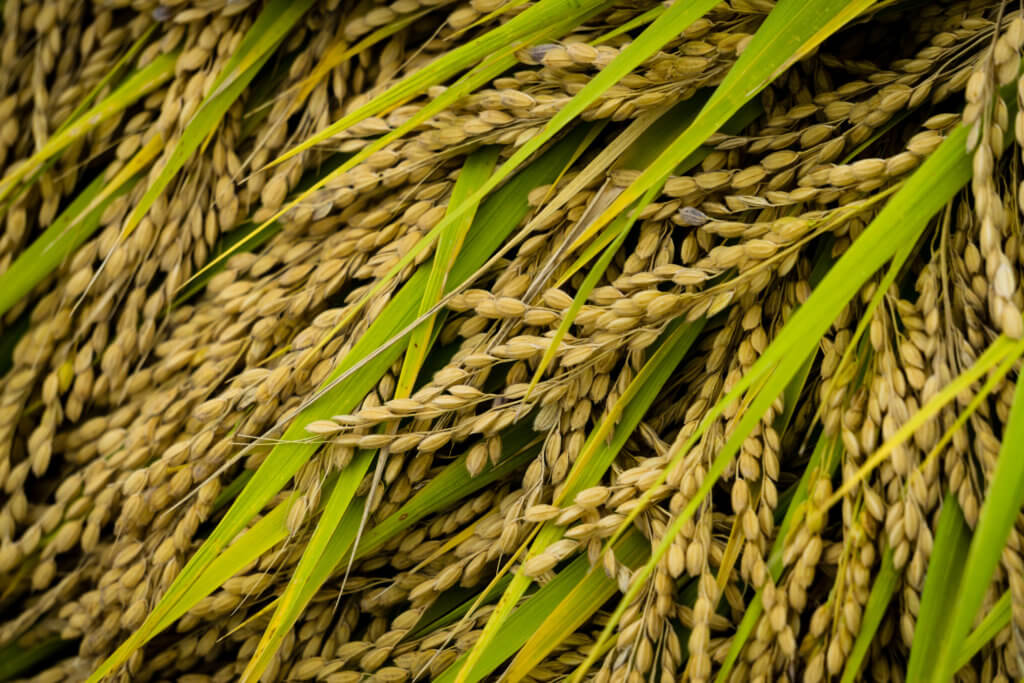 Autumn / 秋 (September to November)
Following the sweltering summer, autumn arrives to cool things down and blanket the nation in a veritable rainbow of reds, oranges, and yellows as the trees prepare to drop their leaves like rain. Locals love to take advantage of the milder temperatures by escaping the stuffiness of the cities and taking refuge in the quiet countryside.
Once you are away from the big metropolises, you will be met with farmland as far as the eye can see. During the fall, rice fields are full of shimmering golden waves of grain that rise and fall like the ocean with each breeze. Farmers spend their days harvesting their crop beneath stretches of gorgeous maroon and goldenrod leaves. Known as kouyou in Japanese, the autumn colors of the Japanese maple and ginkgo trees can be enjoyed through early December, depending on where you visit.
If you are visiting Japan in the autumn, this is a great time to see the beautiful tie-dyed mountains, ride gondolas up to the peaks of ski resorts, participate in rice-harvesting festivals, and just have an overall authentic Japanese experience.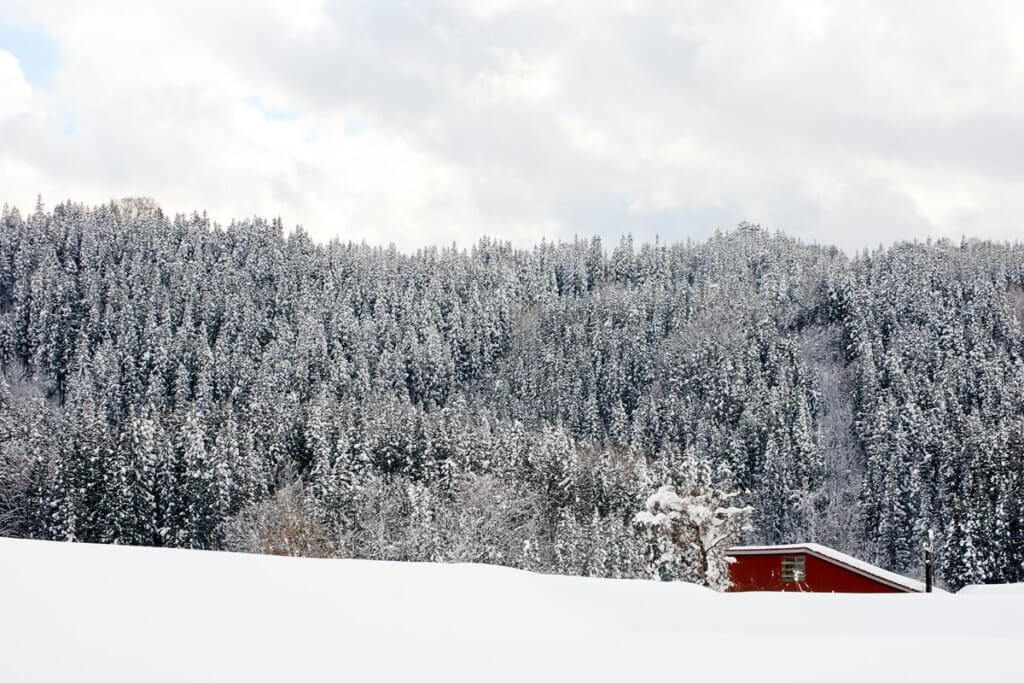 Winter / 冬 (December to February)
As the crisp autumn months fade away and the leaves on the trees loosen their grips,  the weather takes a turn down cold lane. In Tokyo, this time of year is predictably cold but is not quite the picturesque winter wonderland that we sing about in one of our favorite Christmas songs. Even in December, it is sunny and dry, experiencing perhaps only a few days of slight snowfall. But don't let the lack of snow fool you ‒ the temperatures can still be bitter and biting.
If you are anxious to experience some actual blizzards, and not just some of the cherry blossom variety, then you are going to have to head north to regions such as Tohoku or Hokkaido, which have been nicknamed yukiguni, or Snow Country in English. In the winter of 2016-2017 alone, some parts of Snow Country were buried beneath thirty-seven feet (11.3 meters) of snowfall, making it an excellent choice for ski and snowboard enthusiasts alike.
If you aren't one for sports, then fill up a Thermos of hot chocolate and check out a winter illumination display, such as the famous Kobe's Luminarie. These spectacular light shows have become a popular attraction and are located in cities all around the country. Extremely elaborate in nature, these festive exhibits make up for the lack of green vegetation and the short daylight hours. For more details on some of Japan's most visited seasonal illumination spots, check out this handy website: https://www.japan-guide.com/e/e2304.html.
What is your favorite season in Japan and why? Let us know in the comments below.