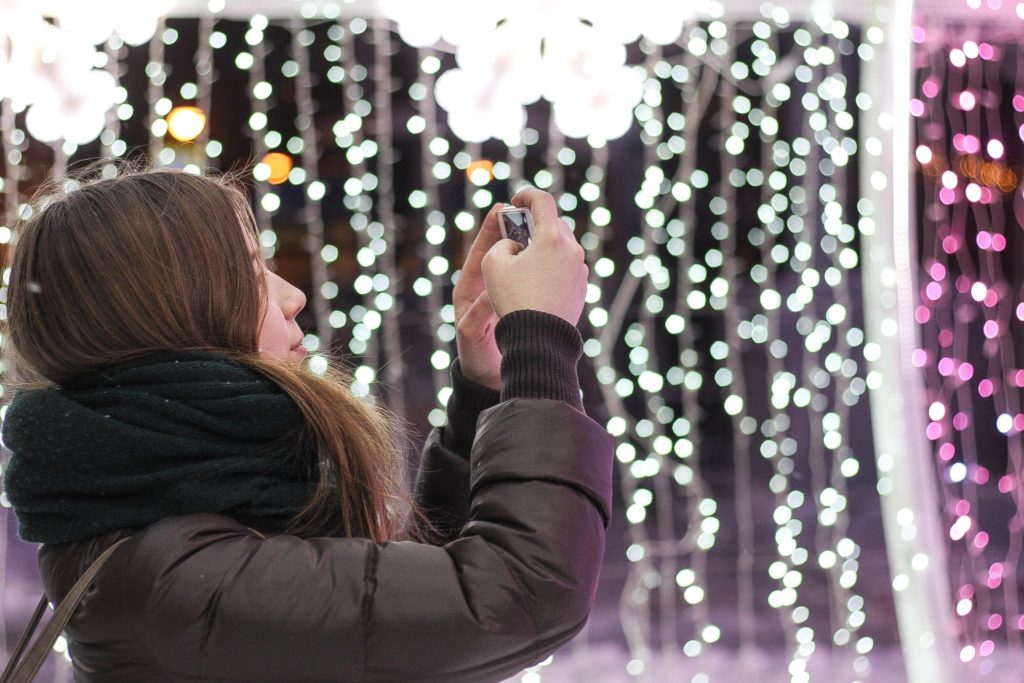 Christmas lights ‒ those twinkling bits of stardust that add a sprinkle of magic to my living room ‒ yes, they are undeniably one of my favorite parts of the holiday season, despite the frustrating fact that they always manage to tie themselves into Boy-Scout-worthy knots while in storage. To strip them down and say goodbye is a yearly cause for mourning.
In my childhood, I would often beg my parents to take us home the long way, adding an extra fifteen minutes to our drive just so that we could pass by a particularly festive house whose owners had certainly decked out their halls to an obscene degree. Their yard was filled with large inflated Santas and Rudolphs, and every inch of their property seemed to be dripping with red and green fairy lights. Like a brilliant layer of melting snow, the electric lights cascaded down the building's roof and spilled over the front of their garage door, transforming the otherwise mundane house into a place of wonder that, even in my memory, rivals that of the mystical North Pole. As we rode past, I would smash my little face up against the car's window in an effort to get a better look. The Christmas display was certainly a pure marvel to behold.
Sadly, you won't see such scenes here in Japan. As a general rule, neighbors won't erect mini-versions of the Nativity in their front yards, stick plastic candy canes on their mailboxes, or even mount a beautiful wreath on their front door. Yes, the tradition of adorning one's apartment or home with Christmas lights and other such radiantly fun decorations has not yet gained a large following in the Land of the Rising Sun. For a country filled with conservation-minded people, I'm sure the horrors of the accompanying electricity bill is enough of a deterrent to stop a widespread craze among civilians.
On the bright side, however, Christmas lights can still be found in abundance all around Japan for those eager to bask in the magic of the season. Spectacular winter illumination displays, ranging from simple tree decorations to elaborately choreographed light and music shows, flicker like majestic candles amidst the harsh neon signs of downtown Tokyo.
Christmas time is a special season no matter where you are; in Japan, it is the season when towns shine.
Kobe Luminarie
The Kobe Luminarie display is one of the oldest of its kind. It was conceived in the wake of the 1995 Great Hanshin Earthquake as a way to bring hope to the affected and light to the darkened hearts of the victims. 200,000 hand-painted lights were donated by the Italian Government and the original display was designed by both Japanese and Italian artists alike. Though the Luminarie was only supposed to be a one-time affair, its overwhelming popularity lead to it becoming an annual event. It might not be the most extravagant on this list, but it definitely has the most heartwarming history.
DATES: December 8 to 17, 2017
TIME: 18:00-21:30 (Mon to Thu), 18:00-22:00 (Fri), 17:00-22:00 (Sat), 17:00-21:30 (Sun)
ADMISSION: Free
LOCATION: A short walk from Motomachi or Sannomiya Station
WEBSITE: http://kobe-luminarie.jp/ (Japanese Only)
Kingdom of Light
The location of this particular light festival peppers it with a unique flavor that distinguishes it from the many different illuminations in Japan. The Kingdom of Light display takes up the entirety of Huis Ten Bosch ‒ a theme park in Nagasaki Prefecture which recreates a Dutch town. With a staggering thirteen million bulbs to its name, The Kingdom of Light does not shy away from over-the-top extravagance. In fact, it welcomes it with an LED waterfall that is over two hundred feet (66 meters) high, an electronic dragon, and a cafe where you can sip hot coffee surrounded by the magic of a neon world. Even the tulips are illuminated!
DATES: November 3, 2017 to May 6, 2018
TIMES: Varying hours, typically 17:00 – 22:00
ADMISSION: 4,000 yen (entry only), 4,900 yen (entry and rides after 5pm)
LOCATION: Inside Huis Ten Bosch
WEBSITE: http://english.huistenbosch.co.jp
Flower Fantasy
Located at Ashikaga Flower Park, the Flower Fantasy display is just that ‒ a fantastical arrangement of lights meant to resemble the hanging wisteria for which the park is famous. The beauty of nature is celebrated here as every available tree branch and limb are draped in bright lights and dressed in neon colors. It is one of the Kanto Region's top three largest seasonal illumination events and its attractions include music-synchronized light shows as well as a grandiose flower garden of light.
DATES: October 21, 2017 to February 4, 2018 (closed on December 31)
TIMES: 16:30 to 21:00 (until 21:30 weekends and holidays)
ADMISSION: 900 yen
LOCATION: A 10-15 minute walk from JR Tomita Station
WEBSITE: https://www.ashikaga.co.jp/flowerfantasy_special2017/en/
Nabana no Sato
Similarly to Flower Fantasy, Nabana no Sato is spread over the flowing hills of another flower park, but this one is part of a luxurious resort on Nagashina Island, just off the coast of Kuwana city in Mie Prefecture. The undeniable highlight of this display is the world famous light tunnel. This twinkling tunnel is created using one million light bulbs and is around 650 feet (200 meters) in length. It certainly will be a walk to remember.
DATES: October 15, 2017 to May 7, 2018
TIMES: 9:00 to 21:00 (until 22:00 on weekends and holidays)
ADMISSION: 2,300 yen
LOCATION: 30 minutes by bus and train from central Nagoya
WEBSITE: http://www.nagashima-onsen.co.jp:8010/page.jsp?id=13894
Midtown Christmas
For those of you visiting the Tokyo region this winter, the Midtown Christmas illuminations are surely the most conveniently located on this list. This year marks ten years since the completion of the Tokyo Midtown shopping complex for which the light show is named, and as such, the lights this season are going to be particularly extravagant as a way to celebrate.
The most popular part of Midtown is unquestionably the Starlight Garden, which recreates space and allows its viewers to enjoy a show that mimics a journey through the universe. Staged on the expansive Grass Square, 2017's theme is, "A Space Odyssey." On each night of the week, a different planet is focused on, complete with its own special light and sound show. New to the display this year is, "The Stardust Zone," which is described as an  ethereal area where one can experience what it would be like to wander into a world made entirely of stardust.
WHEN: November 15 to December 25, 2017
TIMES: 17:00 to 23:00
FEE: Free
LOCATION: Near Roppongi Station