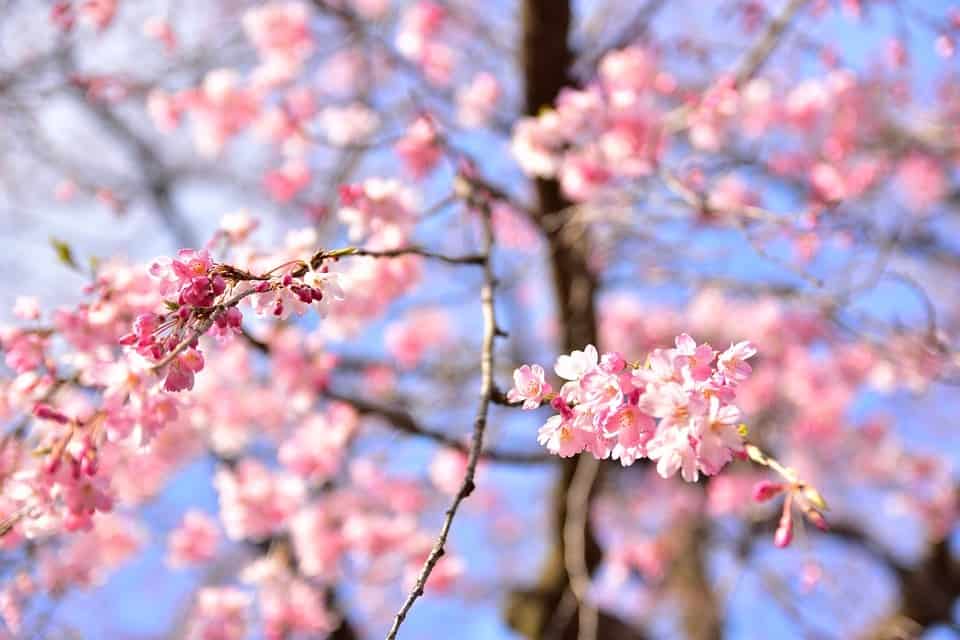 Every April, different cities and towns in Japan observe many fun, colorful, and vibrant festivals that attract hordes and hordes of people from around the country and foreigners across the globe. If you are planning a trip to this part of the world in April, the following are highly recommended events that you should not miss:
Kyo Odori
First observed in 1950, Kyo Odori is a festival in Kyoto that features traditional Kabuki-style performances for two weeks in April.  It showcases geisha doing dance numbers and playing instruments like shamisen and drums, with different sceneries in the background. The shows are held three times a day, at 12:30 pm, 02:30 pm, and 04:30 pm, at the Kaburen-jo theater in the Miyagawa-cho district of the city, and open with a tea ceremony 30 minutes before the spectacle.
To get to the theater, you can take the train to Keihan Gion Shijo Station or Hankyu Kawaramachi Station, and walk about 10 minutes.
This 2019, the festival is held from April 1 to April 16. For ticket inquiries, reservations, purchase, and other information, visit the Kyo Odori official website.
Shizuoka Matsuri
The largest spring event in Shizuoka, Shizuoka Matsuri is a three-day celebration that features a parade of nebuta floats, lively dance and music performances, and cosplays. It is also a time for some cherry blossom viewing, as well as yatai mura, or outdoor-style food village, where visitors can try delicious local specialties.
Originally started in 1955, the festival is held around Shizuoka Station, which is a stop along the Tokaido Main Line and the Tokaido Shinkansen Line.
This 2019, it will run from April 5 to April 7. You can find more information on Shizuoka Matsuri's official website.
Inuyama Matsuri
An almost-400-year-old festival, Inuyama Matsuri is a big spring festival in the small town of Inuyama. It is highlighted by a parade of 13 three-story-high traditional floats decorated with 365 bright Japanese lanterns, each with a karakuri puppet.
Held on the Inuyama Castle grounds, specifically at Haritsuna Shrine, it will take place from April 6 to April 7 this 2019. At this time of the year, people also visit the castle grounds to see cherry blossoms in full bloom.
To get to the festival venue, you can walk 15 to 20 minutes from either Inuyama-Yuen Station or Inuyama Station.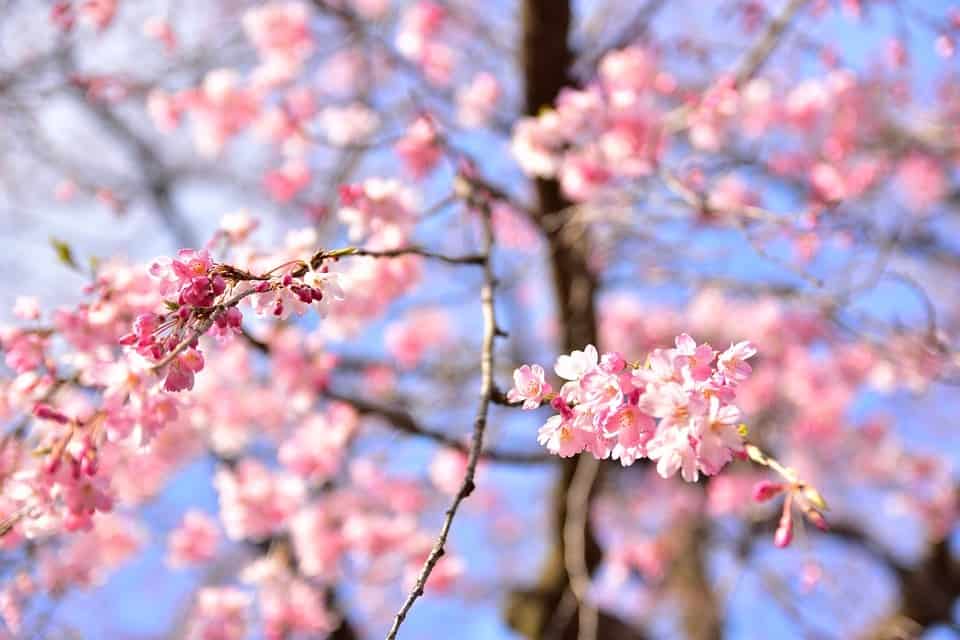 Hiroshima Mint Sakura Viewing
From April 9 to April 15 this year, the Japan Mint Hiroshima Branch will open its garden doors to the public for sakura viewing. Home to hundreds of cherry trees, the site boasts of 63 different multi-petalled sakura varieties, which can grow as many as 20 petals.
Throughout the week, the site will welcome visitors from 10:00 am to 08:00 pm, free of charge. To get there, you can take the train to JR Itsukaichi Station, and then ride the shuttle bus service.
Osaka Mint Sakura Viewing
The Japan Mint Osaka Branch will also hold its sakura viewing from April 9 to April 15 this year. It is known for its yaezakura, which is a variety of cherry tree that can grow more petals than the classic cherry tree varieties.
From 10:00 am to 09:00 pm during this period, the mint will be open to the public, free of charge, and will host illuminations every night. To access the site, you can take the train to Temmabashi Station, and walk about 15 minutes.
Takayama Matsuri
Regarded as one of the three most beautiful festivals in Japan, along with Yomatsuri in Chichibu and Gion Matsuri in Kyoto, Takayama Matsuri, also known as Sanno Matsuri, is an event held two times a year in Takayama, once in spring and once in autumn.
This 2019 spring season, the festival will be from April 14 to April 15, and held at Hie Shrine, which is situated in the southern part of the old Japanese town. It features a display of tall and intricately adorned floats in the streets (if the weather is nice and clear), or inside storehouses with opened doors for public viewing (if the weather is bad). It also holds a procession of mikoshi or portable shrines, and marionette performances.
To get to Hie Shrine, you can enjoy a leisurely 25-minute walk from Takayama Station, or you can ride the sightseeing buses that service the different tourist spots and attractions around town.
For the complete festival schedule and other information, visit the Hida Takayama official tourist webpage.
Hirosaki Cherry Blossom Festival
With more than 2,600 cherry trees, the Hirosaki Castle Park is the site of one of Japan's most popular cherry blossom festivals. This 2019, the Hirosaki Cherry Blossom Festival will run from April 23 to May 6, a few weeks later than the peak cherry blossom times in the Kanto and Kansai regions. At night, it is especially stunning, as the sakura trees and the castle are illuminated.
Access to the park is not free. The following are the ticket prices:
Admission to Honmaru – 310 yen for adults, 100 yen for kids
Admission to the arboretum – 310 yen for adults, 100 yen for kids
Combo ticket (admission to both areas) – 510 yen for adults, 170 yen for kids
To get there, take a 15-minute Dotemachi Loop Bus ride from JR Hirosaki Station.
More information on the festival is found on Hirosaki Tourism and Convention Bureau's official website.
Fuji Shibazakura Festival
To see a gorgeous sea of bright pink moss or shibazakura with the majestic Mount Fuji in the backdrop, you have to attend the Fuji Shibazakura Festival, which will be held from April 13 to May 26 this 2019 at the Fuji Five Lakes area, about three kilometers from Lake Motosuko.
During the festival, you can buy shibazakura-themed foods, snacks, and souvenirs from the many stalls scattered around the site, which is easily accessible via buses that run from Fujisan Station, Kawaguchiko Station, and Shin-Fuji Station, as well as direct highway buses between Tokyo and the festival site.
Visit the official website of the Fuji Shibazakura Festival for more information.