New Japanese Cell Phone Service for Americans in Japan
Mobal is now offering a new Japanese cell phone service in association with Softbank for Americans who are moving to live in Japan, or are visiting for an extended period of time.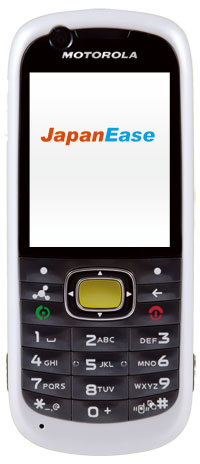 You get all the benefits of a monthly cell phone service with no basic monthly fees, no minimum usage and no need for a long term contract.
As an American living or working in Japan to get a monthly cell phone service you must have an Alien registration card that is valid for a minimum of 2 years and a Japanese bank account. This leaves many people with prepaid phones as their only option.
Japanese prepaid services are available from Softbank and AU by Kddi, these services require users to purchase credit to make calls, send SMS text messages or use data to view the internet. Many prepaid services come with limited functionality and Japanese handsets which can be difficult to understand.
Prepaid customers have to top up starting from ¥3000 which is valid for 60 days, any credit that remains unused at the end of the validity period is lost.
With Mobal JapanEase you only pay for the calls and text messages you use at a competitive rate, we bill monthly so you don't need to worry about running out of prepaid minutes.
Mobell's JapanEase cell phone service comes with an easy to use Motorola VE538 Handset or if you have your own 3G enabled handset they can offer a SIM only option which is unavailable anywhere else in Japan.
We also realise how important calling home is so the JapanEase service offers competitive rates to call family and friends back in the USA.
If you regularly visit Japan or going to live or have an extended stay then this is the Japan phone for you.
JapanEase – Japanese Cell Phone Service
1 Reply