The new Isatphone Pro is Inmarsat's take on the popular Iridium satellite phone.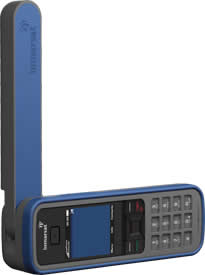 It is Inmarsat's first handheld satellite phone and should prove to be very popular. It is no doubt, far superior to the services offered by Thuraya and Globalstar. It's benefits over the Iridium service look less obvious.
It's size is relatively small for a satellite phone – 6.7″ x 2.1″ x 1.5″,  and it weighs 9.8oz.
It has global coverage except for the polar regions  (Iridium does cover the poles).
Other features include bluetooth, SMS, email and voicemail.
Talk time is the longest available for this type of phone – up to 8 hours. Standby time is up to 100 hours.
As with the Iridium phone, the aerial needs to be extended and have sight of the sky for you to make or receive calls.
For more information or a quote for rental or purchase, please get in touch.