We welcome Lauren DiMarco, from lolastravels.com who talks about her time in Provence.
Aix en Provence is one of my favorite destinations in France. Why? Because you have the best of French life along with Southern France hospitality. I've actually visited three times and could easily return again. It's just as you imagine Provence to be. A faded warm yellow glow with pops of other washed out colors everywhere. Busy streets and markets. Happy French people enjoying leisurely meals accompanied with wine. Aix, the abbreviated name for Aix en Provence, is like visiting a small village but with all the comforts of a big city. There's a variety of places to stay, gourmet restaurants and cafes to eat, shopping and culture. Perfect for a quick getaway – bon voyage!
Getting There and Where to Stay
You can get to Provence easiest by flying into Marseille or Nice and renting a car. Nice is approximately 2 hours drive to Aix en Provence and Marseille is about 30 minutes. The best choice really depends upon what works for you from your departure city.
Villa Gallici – Located in an 18th century Provençal house, staying at Villa Gallici is like stepping back in time. It provides luxury services and is a lovely place to relax a few steps away from the heart of the city. Member of Relais and Châteaux.
Hotel Cezanne – A colorful boutique hotel located in the historical city center with 55 rooms and all the modern amenities todays traveler needs. Awarded Laureat Certificat D'Excellence 2012 by Trip Advisor.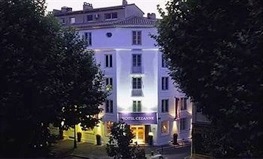 What to See and Do
In Cezanne's Footsteps & Atelier Cezanne: See Aix through the eyes of Paul Cezanne and discover his workshop with some of the very objects that were subjects of his paintings.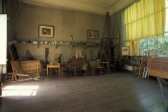 Day Trips: Plan your own excursion or take an organized tour to nearby villages such as Menerbes & Bonnieux. Another option is wine tasting at Chateauneuf-du-Pape.
Shopping for French specialties: French linen at Souleiado, locally made soaps such as Savon de Marseille at La Compagnie de Provence or macaroons at Meresse Macarons.
Provencal Market Tuesday, Thursday & Saturday mornings.
Where to Eat and Drink
Fine Dining: Le Clos de la Violette – Awarded 2 Michelin stars and run by Chef Jean-Marc Banzo, Le Clos de la Violette offers classic dishes from Provencal cuisine. The broadly lit and elegant restaurant also has a magnificent terrace.
Casual Dining: Le Bistroquet located in the heart of the historic city center, Le Bistroquet prepares meals inspired from Provence with modern influences from Asia, North Africa and Eastern Europe to create a culinary voyage.
Patisserie: The famous Patisserie Bechard is a favorite stop for gourmet lovers. Operating since 1870, Bechard is the oldest pastry shop in Aix.
Photo credits: Jean-Claude Carbonne from Aix en Provence Tourism and VillaGallici.com