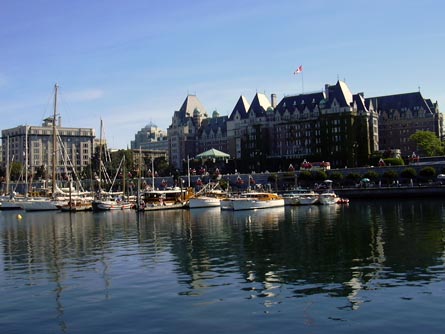 Capital: Ottawa
Official Languages: English and French
Recognised Regional Languages: Inuktitut, Inuinnaqtun, Cree, Dëne Sųłiné, Gwich'in, Inuvialuktun, Slavey and Tłįchǫ Yatiì
Currency: Canadian Dollar ($)
Population (approx.): 34.5 million
Calling Code: +1
Did you know: Canada's common border with the United States to the south and northwest is the longest in the world!
Places to visit in Canada
Toronto
Everyone knows Toronto, but yet it's not the capital of the country. As with any large city it is full of culture, entertainment and regular events. You could compare Toronto to the likes of New York or London.
There is no bad time to visit Toronto has its seasons are very distinct with hot summers, cool and snowy winters, and incredible foliage in the fall. You'll be kept very busy in Toronto!
Niagara Falls
The most powerful waterfall on the North American continent, Niagara Falls is spectacular and a must see when in Canada.
Between November and January Niagara Falls light up, creating a wonderful sight, and is home to the annual Festival of Light. There are also many events during this time including fireworks and concerts for all both adults and children.
Calgary
Calgary, home of the Winter Olympic Games in 1988, is a popular destination for tourists and adventurers. The city's close proximity to the Canadian Rocky Mountains offers winter sports and ecotourism.
Music plays a massive part here and Calgary is considered Canada's home to Country music. The Southern Alberta Jubilee Auditorium is located in Calgary, a performing arts and community facility, which holds 2,538-seats and hosts stage, Broadway musical, theatrical and local productions.
Victoria
Victoria, is one of the oldest cities in the northwest with settlement beginning in 1841. It is the capital of British Columbia and is located on Vancouver Island.
A city that is full of local culture and history, Victoria has plenty to offer. Beacon Hill Park is a popular area hosting regular events for people of all ages. You can also visit the nearby Butchart Gardens and take in the wonderful floral displays.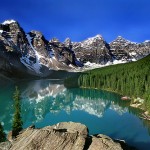 Canadian Rocky Mountains
The Canadian Rockies offer some of the most breathtaking, beautiful and serene scenery. These mountains are sharply pointed, with wide valleys where the earth was gouged by glaciers, while the Rocky Mountains in the US have a much more rounded shape.
Mountaineers and Adventures, as well as tourists and sightseers, can take in the unique mountain landscapes, comprising peaks, glaciers, lakes, waterfalls, canyons and limestone caves as well as fossils.
Aurora Borealis
The aurora borealis, or northern lights, can be seen as far south as the United States/ Canada border, but are easier to see and more spectacular as you travel further north.
It is a luminous display with shimmering colors that dance across the night sky. The northern lights can be viewed all year in Canada, but the best views are seen in the winter and fall because of the long nights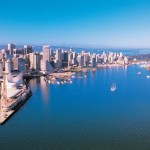 Vancouver
Vancouver is one of the most beautiful cities in Canada and perhaps the world. Located between the Pacific Coastal mountains and the Pacific Ocean , filled with trees and huge park lands, Vancouver is home to some of Canada 's best kept beaches.
The city is rich in culture, having a number of museums and galleries that are open to visitors all year round. There is also a huge appetite for live music, with lots of festivals and nightlife on offer.
Dinosaur Provincial Park
Dinosaur Provincial Park, located in the badlands of Alberta, contains some of the most important dinosaur fossil discoveries ever made. Fossils were found from about 35 different species of dinosaurs. Some of these fossils date back nearly 75 million years.
The Park itself has a complex geological structure, being made up of three different formation. Whilst its wildlife is diverse, with coyotes, nighthawks. Cottontail rabbits, mule deer, and pronghorn.
Viking Trail
The Viking Trail is a themed highway that stretches from the west coast of Newfoundland to southern Labrador.
The trail winds through the northern coastline where there are many fishing communities and views of migrating whales. There are even views of icebergs that are about 10,000 years old. The Viking Trail marks land that was discovered by Vikings and was traveled by Basque whalers in the 16th century.
Baffin Island (Oikiqtaaluk)
Baffin Island is the largest island in Canada and the fifth largest island in the world. It's located between Greenland and the Canadian mainland and known to the local Inuit as Oikiqtaaluk.
Baffin Island is raw and untouched with small Inuit villages interspersed with abundant wildlife of the Arctic Circle. Tourists arrive by air and there are opportunities for tours by dogsled or snowmobile. Baffin Island is also a popular destination for BASE jumpers and kayakers.
If you plan to visit Canada, and one of the many great places it has on offer, you should consider taking either a Mobal International Cell Phone, or if you're traveling to more remote areas then a Mobal Satellite Phone.