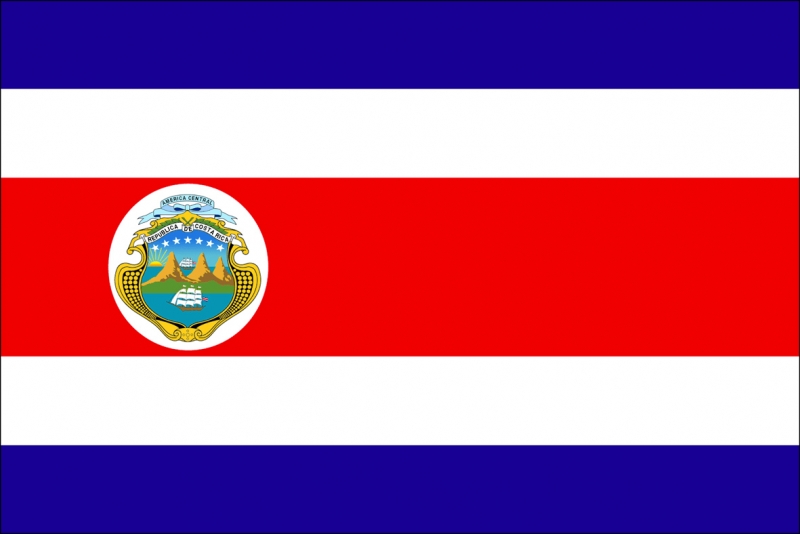 Capital: San José
Official Languages: Spanish
Recognised Regional Languages: Mekatelyu, Bribri
Currency: Costa Rican colón (CRC)
Population (approx.): 4,301,712
Calling Code: +506
Did you know: Coffee was first planted in Costa Rica in the early 19th century, and was first shipped to Europe in 1843.
Places to visit in Costa Rica
Monteverde Cloud Forest Reserve
Established in 1972, this forest in the clouds is perfect for hikers, or those travelers who want to experience an abundance of plant species and animals. The Cloud Forest ecosystem is finally balanced, yet it still offers a huge amount of biodiversity. Held within the reserve are over 100 species of mammals, as well as 400 species of birds and over a 1,000 species of amphibians and reptiles.
Arenal Hot Springs
Around the Arenal Volcano and National Park you can find a selection of hot springs. There are a number of places that offer these hot spring facilities, and each place is very unique. While some have both hot and cold pools, other places may contain waterslides and bars. However, they all share one thing in common. Wherever you decide to go, they'll be relaxing and leave you rejuvenated.
Nosara Beaches
This unspoilt part of the coast is renowned for its surfing and yoga. The beach makes a thin golden line between the lush forest and the blue ocean, where monkeys and turtles meet. Nosara Beach has been well preserved by local people, as well as the national park system. The area is protected, hence why there is only some small scale development.
San José
Costa Rica's capital is a great central point to start your exploration of the country's amazing rainforests and beaches. The capital is made up of a number of different districts, consider heading down town for a more cultured experience or try heading West to Escazú, where you'll be greeted with trendy shops, nightclubs and restaurants. With its vibrant streets, museums and galleries it ensures San José is alone worth a day of your time.
Caño Scuba Diving
The island of Caño is located on the southern Pacific coast of Costa Rica, and is probably the best place to go scuba diving. Protected by the Government, the island is a biological reserve and is teeming with life. Sharks, rays, turtles and many different schools of fish can be observed in these waters. If you're very lucky you can also spot the elusive Whale Shark and Bull Shark.
Tortuguero National Park
The Land of Turtles, is how Tortuguero can be translated, can be found on the Northern Caribbean coast of Costa Rica. Separated from the mainland by the Tortuguero River, the village is located on a thin piece of land that points out to the Caribbean Sea. There are a number of navigable canals where you can explore the surrounding rainforest, which is home to a number of different species of mammals, birds and insects. The beaches are key nesting areas for four species of sea turtle.
So if you're traveling to Costa Rica, maybe to catch some Winter Sun, don't forget to take your Mobal World Phone. If you're heading in to the more remote areas of Costa Rica you'll need to ensure you take one of our Satellite Phones.