With an estimated 47 million people taking to the skies and roads during the 2016 Thanksgiving holiday, this time of year is, without a doubt, the busiest time for traveling. Whether you're flying across the country to see family, or driving across the state line to visit friends, trying to get from Point A to Point B during this hectic season can be very stressful, even to the experienced traveler. Continue reading for some planning tips that can help you enjoy a headache-free holiday:
Book Your Flight Early
Reserving your flight 3-4 weeks in advance can help you save time and money, since most airlines lower their rates in early November. This applies to international trips too. If your preferred airline is active on social media, follow them on Facebook and Twitter and you could snag a great deal on airfare before it's made available to the general public.
Know When to Travel
Want to avoid crowds at the airport? Avoid booking your flight for the day before Thanksgiving, which is one of worst travel days of the year. Instead, fly out Monday, Tuesday, or even Thanksgiving Day. Friday is your best choice for traveling home because outbound flights reach their highest peak the weekend after the holiday. And the same rules extend to driving. Traffic is normally at its heaviest during the afternoon hours on the Wednesday before Thanksgiving. If possible, leave during the early morning hours or later in the evening to minimize the hassle.
Get to The Airport on Time
Since flights are usually jam-packed during Thanksgiving week, don't tempt fate by arriving late to the airport. It's unlikely you'll be able to book another flight if you miss yours, so set your alarm to wake up early and get there with plenty of time to spare. If you're using a new airline, find a map of the airport before your trip and study it closely. This will come in handy if you're short on time when you arrive or if you experience a layover. Learning where the restaurants, shopping areas, restrooms, and departure gates are will make your wait a lot less stressful.
 Don't Overpack
Many airlines today charge an extra fee for checked bags, so simplify as much as possible and pack only your must-have items in a carry-on bag. A word of caution – the TSA (Transport Security Administration) prohibits most liquids in carry-on bags, except for those in containers holding 3.4 ounces or less that are kept sealed in a quart-sized clear plastic bag. Liquids for medicinal usage and childcare purposes are two exceptions to the rule. If you'll be gone several days, consider shipping your belongings to your destination ahead of time to help lighten the load.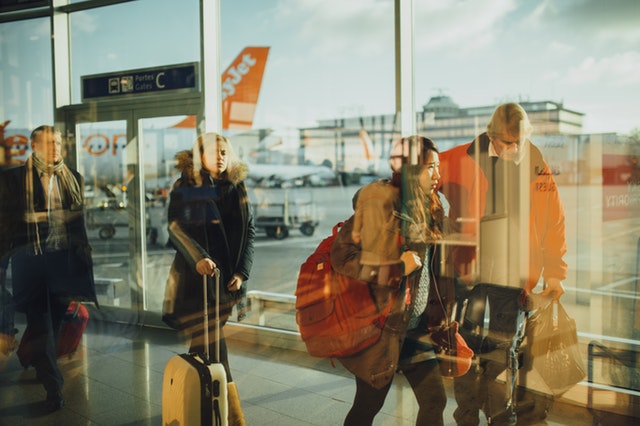 Plug In
If your airline has a smartphone app, download it to stay up-to-date on any changes to your flight schedule. An app is one of the quickest and easiest ways to receive real-time updates on cancelled flights, weather delays, and other crucial information. Some apps have extra built-in features that let customers rebook a flight in the case of a delay or other disruption, so you don't have to wait in long lines at a ticket counter.
 Stay Charged
In a recent survey, a staggering 92% of participants reported they travel with their cell phones/smartphones and 48% use their tablets. If this sounds like you, then make sure a portable charger is at the top of your list of things to pack, especially if you're using your phone as a GPS while driving. If you need other techno gadgets, like an extra USB charger or power pack, purchase them well in advance of your trip and power up all of your devices the night before you leave.
Make Preparations
If you're traveling by vehicle, route your trip several days (or weeks) ahead of time with paper maps, a GPS, or your smartphone, and carry enough coins for any toll booths you might encounter. If you have children, don't leave home without plenty of snacks and drinks so you won't have to make frequent stops at convenient stores or restaurants. Bring travel-size board games, coloring books, crayons, hand-held video games, and other fun activities to keep boredom at bay. Two more important preparation tips – stop by the ATM for cash and have your vehicle serviced (tire pressure check, oil change, etc.) before you head out!
Keep Your Cool
Maintaining a huge dose of patience and a positive attitude is vital for traveling. Chances are, you may run into some unexpected delays or problems, and even more so during this busy time of year. If the stress is getting to you, take some deep, even breaths to calm your nerves. Add a couple of soothing tunes to your smartphone and buy some noise-canceling headphones for those moments when you need a break from the chaos.
Photo links:
Airport terminal: https://www.pexels.com/photo/activity-adventure-blur-business-297642/
Maps: https://www.pexels.com/photo/flight-airport-airplane-plane-34631/