Strange Traditions from Around the World
Are you an adventurous world traveler? When making plans to travel abroad, do you look for a destination shrouded in mystery, with strange traditions you have to see and experience to believe? If so, then you'll definitely want to add these locations to your list of places to visit:
Spain
Legend has it that, in 1945, an enormous fight ensued during a Gigantes y cabezudos (or Giant and Big-Heads) parade, when some of the young adult citizens weren't allowed to participate. Their weapons of choice were tomatoes. Since then, the La Tomatina (or Tomato Throwing Festival), is held every last Wednesday in August, but this time throwing the tomatoes is strictly for fun.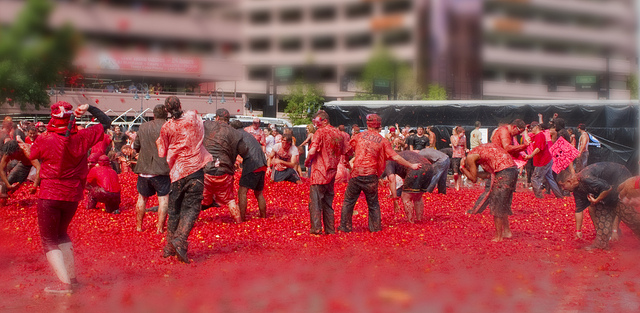 Amazon
Bullet ants are said to have the most painful sting in the world, and they're used as a ritual in the Amazon when boys turn thirteen. A Medicine Man drugs the ants with herbs to make them sleep before weaving them inside a pair of gloves with the stingers pointing inward. The boy will then wear the gloves for at least ten minutes. When the ants wake up and realize they're trapped, they become extremely aggressive.
Japan
Every year, on March 15th, the Japanese take part in a fertility celebration called Kanamara Matsuri (otherwise known as The Penis Festival). Participants carry a giant penis-shaped statue across town, which is supposed to ensure fertility for everyone and everything, including the local crops.
New Guinea
Forget tears – members of the Dani tribe of New Guinea convey their grief when a spouse dies by cutting off one of their fingers to bury with them. Supposedly, this symbolizes an eternal body/soul connection between the husband and wife. Smearing their faces with clay and ash is another way they express their sorrow.
United Kingdom
In British mythology, seeing one solitary magpie apart from a flock is believed to be a symbol of bad luck. The saying that accompanies this theory is "One for sorrow. Two for mirth". To dispel this omen, people in the UK who spy a single magpie will salute the bird and recite this greeting: "Good morning Mr. Magpie, and how is your lady wife today?"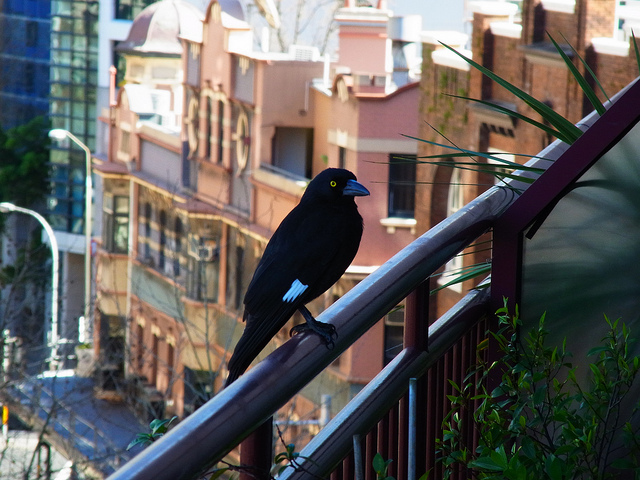 Germany
Before a couple marries in Germany, their families and friends will have an informal get-together where they will break things – many things – until the entire place is in shambles. (The only exception to the rule is you can't break glasses). Afterwards, the betrothed couple will clean up the mess as a symbol of being united and the willingness to tackle hard work together – two traits necessary for any marriage.
Czech Republic
Many people in the Czech Republic believe that the willow tree is the first tree to bloom in the spring, and on Easter Monday, men lightly spank women with whips constructed of willow branches and adorned with ribbons. It's believed the vitality of the willow tree will bless the women with fertility, but it's all done in good fun and not harmful.
India
For 500 years, during the first week of December, the strange ritual of tossing a baby off a 50 ft. temple onto a blanket has been practiced by both Hindus and Muslims in India. Couples who take part in this believe it will strengthen their child's intelligence and bring them good health and prosperity in adulthood.
Denmark
It doesn't pay to be 25 years old and unwed in Denmark. If you're not married by your 25th birthday, you'll be doused with cinnamon all day long by friends and family members. But that's not nearly as bad as being single and turning 30, because then you have to suffer through an ambush with black pepper.
Indonesia
In the Tidong community of Indonesia, a newlywed couple isn't allowed to use the bathroom for three days following their wedding. The Tidong people believe if this ritual is broken it can cause bad luck within the marriage. The couple has to be monitored by many people, and once the three days are up they can resume their normal lives.
France
Every year, on Easter Monday, a gigantic omelet is served up in the main square of Haux, France. The omelet can feed up to 1,000 people and is comprised of nearly 5,000 eggs. Apparently, Napoleon was traveling through the south of France when he decided to stop and dine on some omelets, and he loved them so much he had a giant omelet prepared for his army the next day.
China
As part of the wedding preparations, a bride-to-be in China will cry for one month. Strange but true!
Venezuela
When a member of the Yanomami tribe dies, the body is cremated and the ashes are mixed with a soup, which the other tribe members drink. It's their belief that by digesting the loved one's remains, their spirit will reside in them for eternity.
Have you come across any strange traditions while on your travels? Share your experiences in the comments below.
PHOTO CREDITS:
La Tomatina: https://www.flickr.com/photos/renotahoe/5063636322/
Magpie: https://www.flickr.com/photos/tolomea/5686042341/
Emma is a Online Marketing Specialist at Mobal. She is responsible for our outbound marketing efforts including planning and executing email campaigns, social media and blog posts. She also works with the Web Designers at Mobal to update the website and to help to create a better experience for the user.
Leave a reply