By Vince Owen, Mobal Managing Director.
If someone had told me before our family holiday in Italy that I would have depended on my daughter's defiance and a Mobal World SIM card to find the grave of my wife's late grandfather, I would never have believed them. I know now that it would have been a better break if I had just accepted and embraced the very mobile smartphones I tried to escape; they're actually really useful!
Every day I work with mobile phones, exploring the best plans and handsets, because we're passionate at Mobal about getting the right solutions for international travelers. Over recent years, I've broken, lost, used and tested every kind of device and SIM while traveling across the world.  My four children, now all teenagers, are even more dependent than me on an increasing array of gadgets to function normally. So when going to Rome and Naples recently with my wife, we made the decision to prise our kids out of their virtual, electronic existence and forced them to face the reality of chatting with one another… and their parents! This was to be a holiday with a purpose, a back-to-basics trip liberated from our screens with nothing more than the cabin baggage we could carry, staying in convents and cheap apartments and traveling by budget airlines, train, bus and walking… and talking!
If you've never been, Rome is simply breathtaking and an easy hop over from the UK. With priceless Roman artifacts and famous vistas, piazzas and palaces at every turn, it's easy to fill your days and nights with the rich experience of Italian art, food and culture.
We were on a mission to squeeze as much in to our 10 days as possible and had the holiday of a lifetime. It was simple enough to find the basics in Rome without my usual electronic aids, but ours was a holiday with a purpose: My wife's grandfather died in the battle of Sorrento in 1943 and we were keen to find his resting place. Grappling with Italian timetables and negotiating train tariffs, buses and directions, my language ability was stretched to its limit and family tensions rode high as my wife pointed out we'd not have had a problem had we brought a decent Smartphone . It was then that my second-eldest daughter confessed to having smuggled her Smartphone with her… one of those rare times I've been so glad one of my kids ignored me. I inserted my Mobal International World SIM that I keep in my wallet and our holiday was transformed!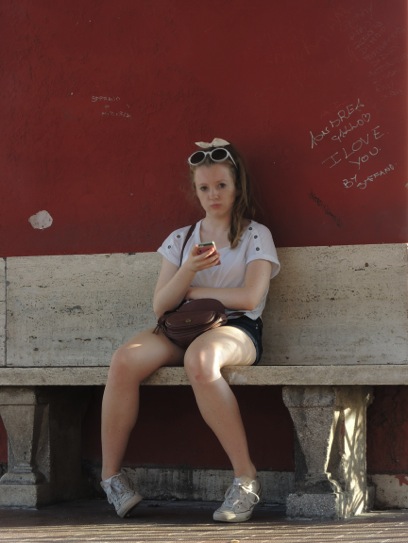 Google Maps was so incredibly useful in showing multiple options of bus numbers, train times and walking routes to reach the obscure Commonwealth War Graves. The great thing about the Smartphone with a Mobal World SIM was that we could see our progress on the bus, which took us south from Salerno into a very rural part of Italy so we knew exactly where to get off. We knew the coordinates of the grave of my wife's late grandfather so, although there were 1,850 identical grave stones, we found it almost immediately with the Smartphone compass app.
Operation Avalanche, a mass invasion of Italy by American, British and other Allied troops came shortly after the fall of Mussolini in August 1943 and this Italian campaign was intended to draw in the German forces from other fronts to help the Soviets. Fighting in Salerno came at a decisive time as Italy rejoined the Allied troops and my wife's grandfather fell the day after the first beach landing.
With a Mobal World Smartphone we were able to have a worry-free time and see more in the limited time available. We were also able to Facebook pictures for my father-in-law to see as we stood by his late father's grave. Gone was the pressure on me to read maps accurately and predict itineraries. Sitting in a café, we were able to check for nearby sights and, with a navigation app, accurately find our way as pedestrian tourists through busy Italian streets. The Smartphone was big enough to be easily visible for us and discrete enough not to attract pickpockets as an iPad may have. With Smartphone in hand, we toured the ruins of Pompeii and Herculaneum, viewing fascinating online explanation of ruins of a long lost Empire. It would have been possible to seek WiFi access at cafes and hotels, but the benefit of the Mobal World SIM is portable data which you need for roaming, getting information when you're out & about and route–finding (and of course, it's secure). It's a travel guide, hotel concierge and capable communication tool all in one and I know it helped my family when we really needed it and hope it will similarly help you & yours!
Five Top Tips for A Successful Stay in Italy:
1.    Consider a short-haul hop to mainland Europe with cabin baggage only. A one-way Ryanair flight from Birmingham to Rome was $38 each, but to take a suitcase in the hold would have been a further $75 so we didn't and made sure we took the best-sized, carry-on cabin bags with no wheels (which can take up 3kg of your baggage allowance straight away). Flying back from Naples to Liverpool was $68.
2.    Get good travel insurance. We met two couples who had had their bags stolen. Keep your eye on all your things when traveling. We moved together and looked out for one another: girls with bags in the middle of a group.
3.    Go to Pompeii! While the guidebooks and tourist agencies proclaim Herculaneum as being better than Pompeii, we loved them both and saw these, as well as Mt Vesuvius in a day with public transport. Pompeii has such scale and Herculaneum artistic splendor.
4.    Pizzerias are such a good budget option – starting at about €3 for a real whopper in Naples (just remember the Marinara doesn't have fish even though it sounds like it might – just tomatoes, garlic, herbs and onions)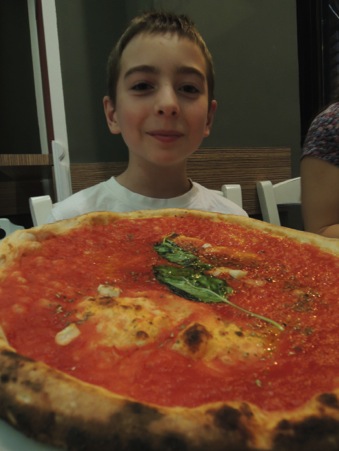 5.    Get yourself a Mobal World SmartPhone – Mobal's service has been designed the way it has because we know it's going to really enhance your holiday! Google Maps was our single most useful App, followed by TripAdvisor.
By Vince Owen, Mobal Managing Director.