Top 12 reasons why you need a Mobal International SIM Card for your next vacation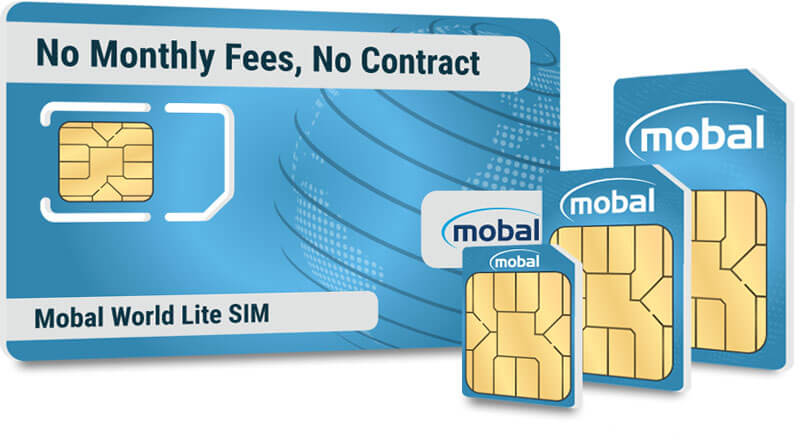 1. The Mobal International SIM Card works in over 190 countries! The great thing about our World SIM is is that you can use it time and time again as the same SIM will work in multiple countries –  in over 190 if you want to be more precise! The SIM Card will also never EVER expire, unlike many other Travel SIMs out there, meaning you get to keep the same phone number for life!
2. There are no monthly fees, no contacts and no minimum usage requirements! If you are just looking for a SIM Card service for your travels then you don't want to be paying monthly fees and be tied into a contract! With the Mobal International SIM Card you pay just $9 and that's it! No further payment will be taken unless you use the SIM.
3. You only ever have to make a payment if you use the SIM Card, making it perfect for emergency use! Once you have paid $9 for your International SIM Card there will be no further fees EVER unless you use the Mobal Service to call, text or use data. This means once you have returned from your trip you can put your Mobal SIM Card in a safe place and forget about it until your next trip!
4. It's a post paid service – making it convenient, reliable and always dependable in an emergency! A post paid International SIM Card is a convenient way of staying in touch when overseas and means you get uninterrupted service without the hassle of having to top up your cell phone each time you run out of credit.
5. You will get a US and an International Phone number! The Mobal SIM card has both a European and a USA phone number. The USA number is useful for your friends and family back home to contact you and the European number will be better for your local European contacts to call you on.
6. Use the SIM to make calls, send texts and use data! Use the World SIM Card to make calls back home, receive calls from family, make reservations while on your trip, send text messages and update your social media with data. Plus get FREE incoming SMS text messages everywhere!
7. You always know what you are paying – thanks to our FREE Alerts. Every time you arrive in a new country we will send you a FREE text message alerting you of call, text and data charges for that country.
8. You get FREE Data Usage Alerts by text message – no nasty surprises here! We are all nervous when using data overseas – thanks to the horror stories we read about in the papers of people receiving bills for thousands of dollars for updating their social media account while on vacation – we don't want that to happen to our customers so we have introduced this great new feature which alerts users of their data usage by text message!
9. You can keep control on how much you want to spend (optional). When you return from your trip the last thing you want is to return home to a large cell phone bill, that's why we allow our customers to set their own monthly usage limit so that you are guaranteed to never spend more than you want to – making your World SIM 100% Billshock Safe. To enable this feature, please email us.
10. The SIM Card arrives active and ready to use! Our International SIM Card will be delivered to your door active and ready to use, so you don't have to worry about setting it up!
11. You get a money-back guarantee, but we know you will be delighted with your purchase! If you are not totally delighted with your Mobal World SIM for any reason, you can take advantage of our Money-Back Guarantee and return it for a full, prompt, no-hassle refund.

12. We will pay your shipping! Order now to secure FREE FedEx SHIPPING! Get FREE US Shipping for a limited time only!

Don't just take our word for it – here is what our customers have to say!
We asked our customers what were the 3 things they liked about the Mobal Service. Here are a few of their responses –
"The Mobal International SIM Card is convenient, reliable and offers great coverage in over 190 countries – all for just $9"
"Coverage. Convenience, reliability"
"No monthly fees. Works as advertised"
"phone is "clear" (no static), Easy to use (when I can), and reliable (doesn't drop calls)"
"Delivery, Customer service, Communication"
"Customer Service, Value, Ease"
"Seamless connections Understandable post use billing Direct dialing"
Don't Delay – Order your International SIM Card Today!
So, what have you got to lose? Pick up your Mobal World SIM Card today for just $9 and have confidence that you can easily keep in touch on your next trip.
GET A INTERNATIONAL SIM CARD TODAY!
Don't have a unlocked GSM Cell phone? No problem! Check out our range of International Cell Phones priced from $29 with a World SIM Card included!
Got a question? Feel free to leave a comment in the comments section below!
All information correct at the time of this post.
Emma is a Online Marketing Specialist at Mobal. She is responsible for our outbound marketing efforts including planning and executing email campaigns, social media and blog posts. She also works with the Web Designers at Mobal to update the website and to help to create a better experience for the user.
Leave a reply