Cook in Japan at Cook JPN!
Japan offers an abundance of gastronomical delights. Of course some dishes are more famous- take for example– Sushi, Tempura or Sukiyaki. Japanese food is so accessible! Simply jump in at any level (street stall, mobile food stand, noodle bar or restaurant) and have fun! In this blog post a Mobal user from Malawi sets off to Asakusa to see the sights. But sightseeing is hungry business so he also with limited time learned to cook a famous Japanese dish at Cook JPN ! And now you can too with 50% discount available to Mobal users in 2018!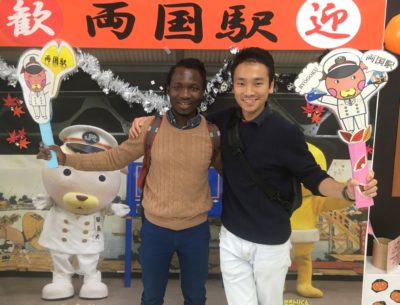 While in Asakusa we heartily recommend you visit Sensoji- Japan's oldest and most visited temple. But once you're done with that how about learning how to fry an egg- Japanese style? After all who didn't learn to cook by frying an egg first!
When in Asakusa- Fry An Egg!
Our visitor wanted to combine sightseeing with lunch.  So we booked the beginner's course for one of Japan's most famous side dishes that can easily (?) be replicated back home.
Based in Asakusa, Cook JPN offer a variety of menu options. We opted for the Japanese Omelette course for 2 hours at 2,000 yen per person. They promised home cooking in a typical Japanese home that would have been typically hard to find! Luckily they also offered a collection service from the most prominent hotel in Asakusa.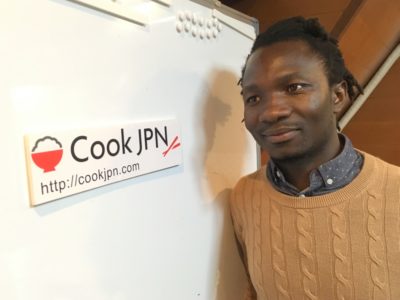 Cant' Make an Omelette Without Breaking Eggs
The menu we chose was perfect. The dish in question translated as a Japanese omelette is in fact both a popular sushi topping as well as a staple of any Japanese "Bento" lunch box. And as simple as it sounds it's delicious! All you need are eggs, sugar, salt, mirin (Japanese vinegar), soy, oil and if possible, dashi (Japanese stock). Oh- and a square frying pan!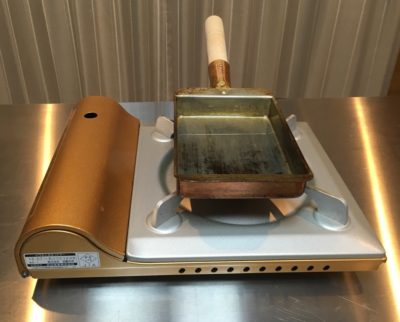 A Professional Omelette in Minutes
Having dressed up and been offered an ice-breaker cup of Japanese tea our host for the day, Mr. Matsuzaka, began to explain the process. Nothing too complicated- heat the pan- add the oil using the large chopsticks and a cotton wad to ensure an even covering. Crack the eggs- add all the ingredients (albeit with the large chopsticks still!) and whisk!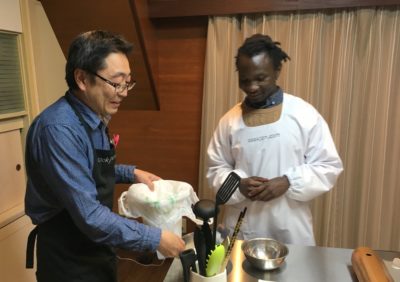 Testing the heat of the pan was  simple. Drop a teaspoon of the egg mixture onto the pan and rolling it (again with the help of the chopsticks) to one side of the pan.
Having added another layer of oil and confirmed the heat it was time to add the rest. The trick lay in lifting the cooked egg (with those chopsticks again) to allow the uncooked egg to flow underneath. The coup de grace was to then roll the egg to one side of the pan so that if effectively rolled over onto itself – almost like rolling up a sleeping blanket- and hey presto!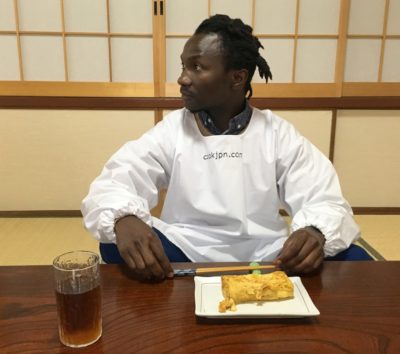 We tried several times until the results were near perfect before sitting down and savouring the goodies. It was so simple yet tasted miles better than any omelette cooked at home. Apparently it's best served with grated "daikon" radish and soy sauce and can be enhanced with chopped green onion.
Our guest was thrilled and aside from the lessons decided to purchase a heavy-duty square pan for the future. The below video captures the essence of the day.
To get 50% discount for any course on the menu in 2018 simply use the coupon code copied below – great value, great fun and good food!
A Note on Cook JPN
Cook JPN in Asakusa are a new tour provider and offer great value cookery lessons that can be easily booked online. Hand-rolled sushi and Hotpot are the most popular dishes but having learned that our host is a traditional Japanese storyteller there might be more on the menu if you ask nicely! Check them out at www.cookjpn.com
2018 deal for Mobal Users- 50% Off Cook JPN
Cook JPN are a start-up business and for 2018 are offering Mobal users a whopping 50% off their cookery classes when booked in advance online. Simply follow the instructions and type in the below coupon code to get your discount.
Thanks to the people of Japan and the efforts of a UK-based telecoms company Mobell/Mobal am happy to assist in providing a hot school meal daily for kids in Malawi, Africa through a Japanese registered NGO- Seibo.
Leave a reply