Consumer Paradise- Shopping for Japanese Souvenirs
Japan is a paradise for consumers. Lots and lots of choice- and odd choice to boot. Let's explore some of the many trinkets and shiny things which capture the visitor's attention and subtly remind you that you're going to need your smartphone in full fettle to capture the many magical moments that await on your visit.
Let's go souvenir shopping!
Hip & Trendy
What is currently selling in the land of Hello Kitty and co? The answer is "dolls with meaning" – the Kimmidoll- an Australian take on the traditional Japanese kokeshi doll. The Australians cleverly added meaning to our lives and ever since tourists have been hooked!
But Japan has many home-grown souvenirs too..such as ehh…Nestle's Kit Kat varieties!  According to the below image the Green Tea flavour Kit Kat is the best -seller at only 255 yen a pack (just over 2 dollars).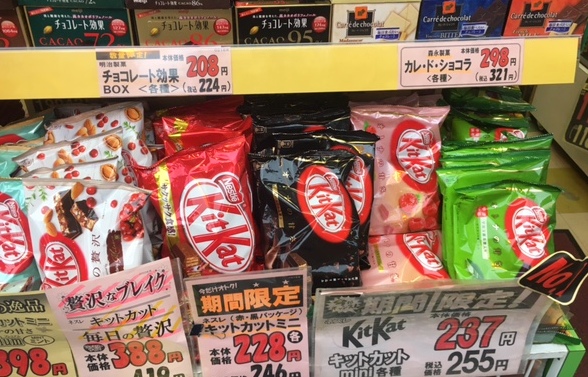 Hello Kittens!
For that special lady in your life a unique Kitty t-shirt might just seal your future so make sure you get one you can at least make sense of. Not every souvenir has meaning you know!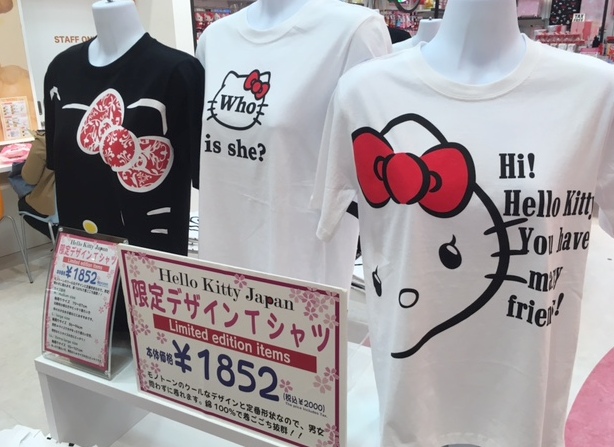 If you are a little bit more practical in your expenditure then I would personally vouch for the reliable and life-changing rice cooker.  It won't have your friends racing to like your post but who cares when you can save yourself ever having to make soggy rice- ever ever again. These are hugely popular with Asian tourists- watch and learn!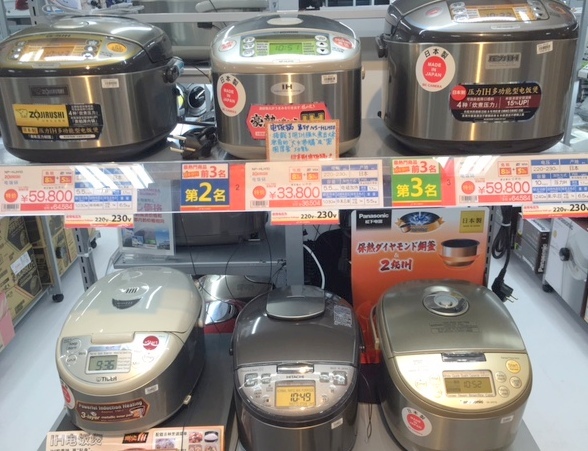 For the old-schoolers- worry not- you can find postcards and even t-shirts and even in big sizes so don't fret but if you want to take your clothes shopping to the next level- shoot for Japanese options- a funky kimono for the ladies , a dashing yukata for the man.
Old School Souvenirs -Socks & Jocks
But I did promise a little bit more than the t-shirt & postcard combo so here's a few oddities and necessities- it does include socks – how can I be so unimaginative you say? Have a little look and judge for yourself. But first a look at some of the hanging sushi …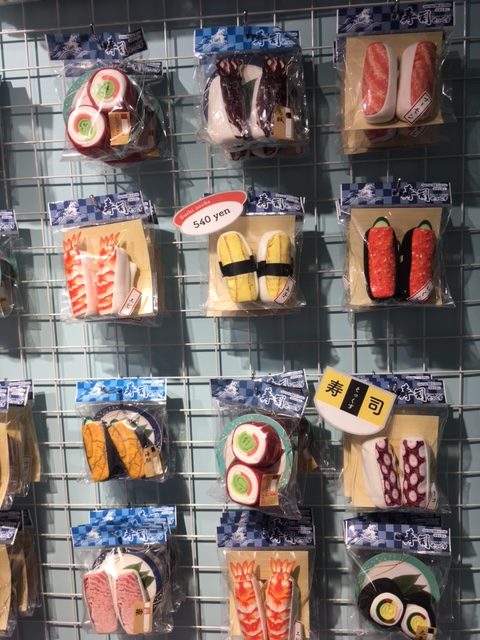 ….socks?
Yeap. At least you can blame the fish for your smelly feet. You can always go for the Full Monty- here's a different take on the Monday, Tuesday, Wednesday sock pack. Instead have shrimp, salmon, tuna, octopus!
And if you're the inquisitive type and you wondered what the blog post image was- wonder no more. Sugar was introduced late to Japan so many of the traditional sweets rely on other tastes- this one is a Sesame Egg. Naturally.