Satellite Communications Take One Giant Yell For Mankind
On the 7th December Cisco completed the first Voice over Internet Protocol (VoIP) call ever made from Space. This was completed without using the terrestrial infrastructure to route the call. This was also the first ever software upgrade of an IP Router on board a commercial satellite while in orbit.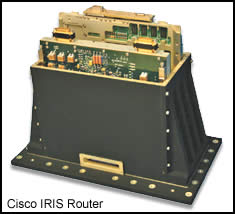 There are long term aims for this technology to route more voice, data and video traffic between users over a single IP network. This will make for greater efficiency in both performance and cost for anyone using VOIP, with a current estimate of 13% of Voice Connections being VoIP based. The ability to upgrade the software of the Cisco router and onboard modem from the ground increases the flexibility of the system to implement future changes, increasing it's life time value.
Leave a reply