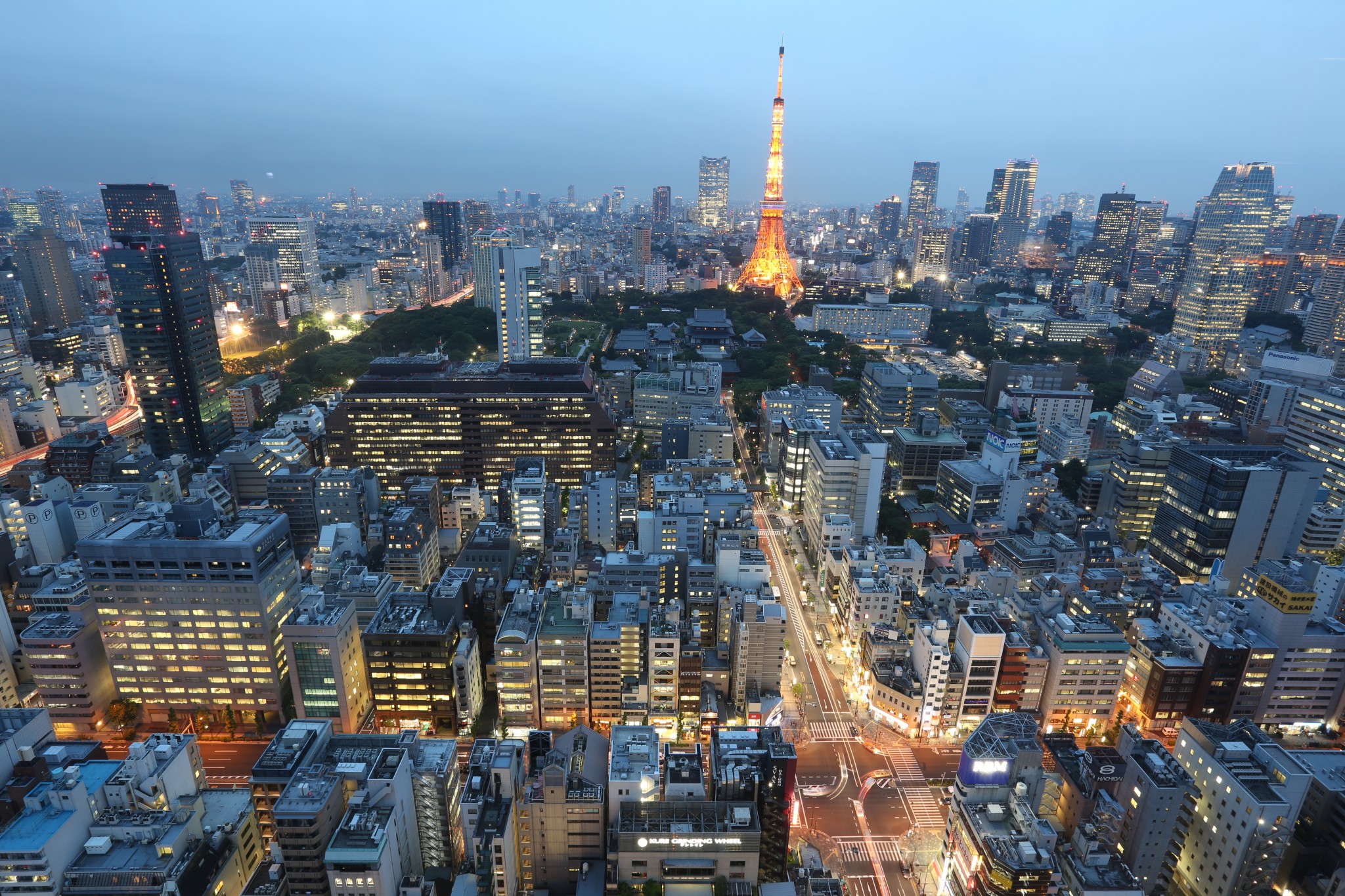 What is Tokyo?
Tokyo is the ultimate in urbanisation. As the capital of Japan in a country dominated by mountains (73% of Japan is mountainous) you would expect an accumulation of people in Japan's capital. Despite being the largest city in the world with an estimated population of over 37 million people however Tokyo still affords a quality of life not available in other cities. For example, Tokyo is less densely populated than London or Hong Kong for that matter.
The Rising or Falling Sun?
Tokyo also currently bucks the national trend of falling population. While Japan itself is shrinking- in 2016 the population fell by 300,000 people- Tokyo continues to grow. Between 2005 and 2010 Tokyo added an additional 1.1 million people while Japan as a whole lost 900,000 people. Not literally we think they're all hiding in Tokyo by now!
Of course it's estimated that between now and 2035 somewhere along the line Tokyo will start losing population unless things change drastically. And it's not all about Japanese people being encouraged to have more babies. The lack of well-paid job opportunities has been cited as one of the main reasons for the falling birth-rate. If a job cannot support a family breadwinner then society loses out in that he breadwinner and his potential partner deciding not to go that direction.
Tokyo- a Recent Appointment
Since becoming the home of the emperor in 1868 Tokyo has become the designated capital of Japan. Of course for the majority of the period from 794 to 1868 when the Emperor resided in Heian-kyo (or simply Kyoto) Tokyo simply did not exist.
Looking Back!
The history of Tokyo stretches back some 400 years and while originally referred to as Edo by the 1720s it already had become one of the world's largest cities with over one million residents.
In the intervening years Tokyo has suffered. In 1923 – a magnitude 8 earthquake- since 2011 referred to as Japan's 2nd largest earthquake destroyed almost half the city. Having been re-built of mainly flammable materials the city was further destroyed by Allied bombing during the war years. Fatalities were on a par with the atomic bombing and the city had to be re-built.
Today's Tokyo
Today's Tokyo is sprawled over 5,200 square miles divided into 23 self-governing "special wards" and interestingly includes several far-flung islands over 1,000 miles away such as Izu Oshima- a volcanic island accessible by ferry from the city.
Not that you need to get a ferry to find an oasis however. Today's Tokyo can also boast that over one-third of its metropolitan area has been designated as "natural parkland" and is now officially under Japanese government protection.
Shinjuku Gyoen, Tokyo. Photo by Josh Wilburne on Unsplash
Tokyo's Gardens  & Parks
For visitors to Tokyo that means an abundance of large parks and delightful gardens many of whose history can be traced back to a time when feudal lords in Edo were required to leave their wives and children in the city as a bond of loyalty. Many feudal lords built large residences with accompanying gardens which are now made public for your enjoyment.
A tourist will undoubtedly visit some of the main sites on a trip – Ueno Park, Shinjuku Gyoen and Hibiya Park but a must-visit area is that of Yoyogi Park and its surroundings of Harajuku and Omotesando.
Recommended for All Visitors
Yoyogi Park– located a few minutes walk from the JR Harajuku station and therefore located next to Meiji Shrine opened to the public in 1967 having previously served as the residential site US Military personnel in Japan known as Washington Heights and subsequently as the Olympic Village in 1964- an event of great pride for the city that is now preparing for the same event in 2020.
But Yoyogi Park is not just an ordinary green space it attracts people-lots of them- and as they say in Yorkshire- there's nowt stranger than folk. Pop along to the park on a Sunday and take a trip back to the 1950's as the rockabilly's descend from the clouds of time with their grease-lightning hair and slick dance moves. If you're hip enough they're even happy for you to join in!
Meiji Jingu Shrine, Harajuku, Tokyo
But if you've come this far you can choose your own adventure. The Meiji-Jingu shrine – dedicated to the spirit of the Meiji Emperor- "the emperor of enlightened rule" is a refreshing tonic during  a hectic day's touring. Despite being the most popular shrine in all of Japan there is a stillness in this place aided by the forest cover comprising 100,000 trees donated from across the country.
The Harajuku Area
But the city awaits you eventually. Only a short walk from the Shrine and you are in the area of Harajuku & Omotesando– the hub of youth culture and trendsetting and a place full of promise of a discovery of something uniquely Japanese.
Takeshita Street
Most people shoot straight for the subculture street that is Takeshita St– and inevitably the foreign visitor much to the bafflement of their local counterparts line up for a selfie under the letters which to some imaginative minds can be distorted to look like something naughty in the English language.
It's a lively street and the shops lining both sides give you a feel for what's in vogue in youthful Japan- but street culture aside it also hosts numerous crepe shops and for a slightly different shopping experience a 3-floor Daiso 100-yen store. It's mind-blowing what you can get in Japan for 100 yen so for souvenir shopping alone it's worth a visit.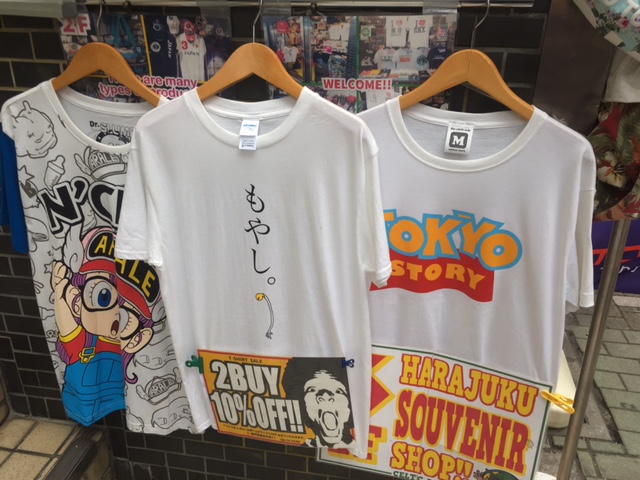 Omotesando- Upmarket Harajuku
Just south of the youthful avenue just introduced is the more grown-up area of Omotesando. Far wider and twice as long as Takeshita St, Omotesando is a broad, tree-lined avenue often referred to as Tokyo's Champs-Elysees.
Originally designed as the approach avenue to the Meiji Shrine today Omotesando is one of the foremost "architectural showcase" streets in the world and is the plush home to many Japanese and international brand boutiques.
It's also the  annual venue for Tokyo's annual St. Patrick's Day Parade (over 25 years and running strong and fun for the family year-round – visit the Kiddyland Toy Store and for the best quality Japanese souvenirs- the Oriental Bazaar. And of course Omotesando is of recent  home to the new Apple Store.
Cafe Central
Talking of apples the abundance of cafes make Omotesando possibly the best place to have an al fresco breakfast, a slow coffee or an indulgent dessert- and to think all you need to get here is the Unlimited Data SIM from Mobal (you didn't notice me do that?).
While sitting in one of these cafes take note of the latest Omotesando fashion- taking your pet shopping- the pet are well treated as pets and often carried around in a pouch-bag or baby buggy and many are as you might expect very fashionable indeed.
The Omotesando Trees
When you are seated also make time to note the trees that make this avenue so famous. The Zelkova or "Japanese Elm" trees- all 157 of them in Omotesando- are a species of tree native to Japan, Korea and Taiwan and often used in Bonsai. Not that these trees are small at all- they're massive and great.
Gorgeous year-round these trees are particularly beautiful in autumn when their leaves turn golden. The first generation of these trees were planted in 1921 but only 7 of the original trees exist following air-raids during World War Two.
The current trees- at least 150 of them- were planted in the post-war years and have somehow survived and grown gracefully. But a closer look and it's clear they won't last much longer- there's no room for them to lay down deep roots in the diminishing soil of Tokyo.
Future Challenges
The challenge for the future will be how to replace these shady old zelkovia trees without causing huge disruption with what is probably the closest area Tokyo has to a city centre.
With the 2020 Olympics looming it's hard to see a huge project being completed by then but it is this writer's hope that in a city that has endured and survived – the Zelkova trees of Omotesando will do likewise!
Enjoy your coffee. And if you're a night owl- don't worry you can still see the trees!
Omotesando, Tokyo Photo by Alex Knight on Unsplash