Iridium launch Extreme Satellite Phone
Iridium has now launched its latest Satellite Phone the Iridium Extreme and this handset offers a selection of new features that will be vital for certain satellite phone users. The extreme has a rubberized casing and has been designed to fit perfectly in your hand with a tapered grip. The extreme looks like a phone that could handle being dropped numerous times without any impact on the aesthetics or performance.
The Iridium Extreme is the smallest satellite phone Iridium has ever produced but it has also been engineered with more features than ever before including GPS-enabled location-based services, Online tracking, Customized solutions enabled for diverse markets, Accessories to create instant Wi-Fi hotspots and Certified S.E.N.D. by Search and Rescue Regulating Body (RTCM).
What's new in the Iridium Extreme
First Satellite Phone with fully integrated GPS, Online Tracking and Emergency SOS with Notification.
IP65 rating, Dust proof, Jet water resistant
Toughest military grade designed satellite phone ever made
10% thinner and 7% lighter than 9555
Create a Wi-Fi hotspot when connecting an Iridium AxcessPoint
Keeping you on Track
One of the major if not the headline feature of the new Iridium Extreme is the the integrated services of customizable GPS, Online Tracking and Emergency SOS with notification
Integrated SOS
The Iridium Extreme is the first satellite phone to include a programmable, GPS enabled one-touch SOS which is a certified Satellite Emergency Notification Device (SEND). This means that users will be able to notify emergency services and then notify you when help is on the way. Users will be able
Customize your SOS Contact
Send a one-touch distress message
Notify the recipient of your exact location
Confirm receipt of your message
Integrated Tracking
The Iridium Extreme is the only satellite phone with integrated tracking which provides real time tracking, allowing you to improve emergency response times, track critical assets and keep friends and family up-to-date whilst traveling.
The new system will also allow users to send an SMS text message with your exact location using Google Maps.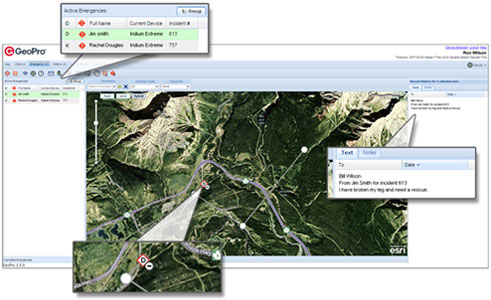 Iridium's toughest phone ever
The new Iridium Extreme has been engineered with toughness and durability in mind, ensuring that users receive high quality satellite communications in the harshest environments on the planet. The Iridium Extreme is the first satellite phone that has been built with military grade 810F durability and also the first satellite handset to have an Ingress Protection rating of IP65. The phone is dust proof, shock resistant and jet-water resistant and includes a speakerphone and wind resistant microphone.
Internet Everywhere..
One of the new releases featured yesterday was the ability through your Iridium Extreme and the new Iridium AxcessPoint to create a Wi-Fi hotspot and connect to the Internet anywhere you have Satellite coverage. This allows users to keep in touch with their smartphones, tablets anywhere offering extended communications anywhere on the planet.
Overall the new handset is an improvement from the 9555 and allows users an increased level of peace of mind with the addition of the GPS and SOS functionality, the tougher design provides protection in any environment and the ability to create a Wi-Fi hotspot using the Iridium AxcessPoint will open up better opportunities for people to keep in touch wherever they are on the planet.
Mobal now have the Iridium Extreme available with both post-paid plans and prepaid vouchers, if you would like to order or for more information visit our Iridium page.