Japan is one of the most popular tourist destinations in the world. With its rich and colorful history and culture, top notch cuisine, incredible natural scenery, and amazing ancient sites and landmarks, there is no wonder why people from all parts of the planet want to spend their vacation days exploring this beautiful country halfway around the world.
If you have always wanted to visit Japan, you should not wait any longer to start booking your plane tickets. Online, you can find several flight routes that depart from different cities across the globe and arrive to Japan's major tourist cities at reasonable prices.
Below are 10 exciting direct flight routes to Japan that can hopefully help you get started:
Flights to Tokyo
1. Seattle to Tokyo
Starting March 31, 2019, Japan Airlines will offer direct flights between Seattle and Tokyo via their Boeing 787-8 Dreamliners aircrafts. The decision is a result of the continued increase in the demand for Japan flights flying out of Seattle, a city that ranks fifth in the list of United States' top markets for Japan travel, after Los Angeles, New York, San Francisco, and Las Vegas. There will be flights on a daily basis, departing from the Seattle-Tacoma International Airport and arriving to Narita International Airport.
2. Las Vegas to Tokyo
For a limited time only, American Airlines will offer nonstop flights between Las Vegas and Tokyo. From January 4 to January 14, the airline company will service the route to accommodate guests to the 2019 CES consumer electronics show, which is one of the biggest corporate events held in Las Vegas. An estimated 180,000 people are expected to attend, with a significant number of them coming from Japan and other Asian countries. During the run, Boeing 787-8 Dreamliners will fly passengers between McCarran International Airport in Las Vegas and Narita International Airport in Tokyo.
3. Paris to Tokyo
Air France flies multiple times daily between Paris and Tokyo. The one-way trip typically takes 12 hours, and links Charles de Gaulle Airport and Narita International Airport. Depending on the season, economy seat prices are around 400 Euros, premium economy around 900 Euros, and business class seats around 1,500 Euros.
About Tokyo:
The capital of Japan, Tokyo is world-renowned for fashion, technology, nightlife, and food. If visiting soon, some highly recommended sites to visit are the Tokyo Tower, Tokyo Skytree, Sensoji Temple, Odaiba, Tokyo Disney Resort, Golden Gai, Shibuya Crossing, and Ueno Park. If you have time to venture a little farther out, make sure to also check out Mt. Fuji, Kamakura, Nikko, and Hakone.
Flights to Osaka
4. London to Osaka
To be launched on March 31, 2019, direct flights between London and Osaka by the British Airways should boost tourist numbers for the much anticipated 2019 Rugby World Cup, which is to be held from September 20 to November 2. The plan is to have four direct flights scheduled per week, specifically on Mondays, Wednesdays, Fridays, and Sundays, departing from Heathrow Airport in London and arriving to Kansai International Airport in Osaka. The estimated one-way travel time is 11 hours and 30 minutes, and the expected cost of a return ticket starts from around 700 Euros.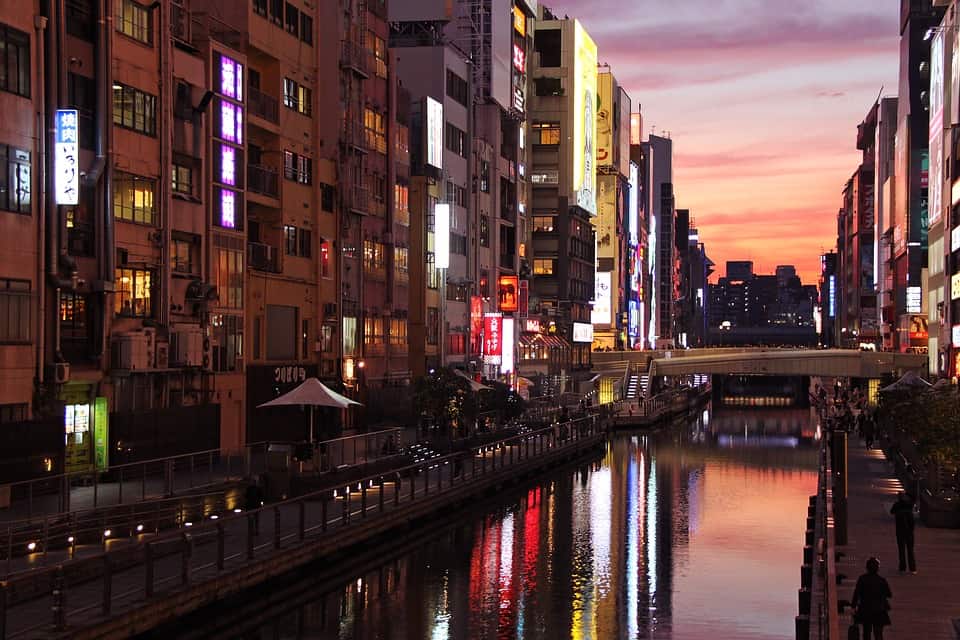 5. Singapore to Osaka
To meet the rise in demand for Japan travel from Singapore and other Southeast Asian countries, Singapore Airlines has unleashed new Boeing Dreamliners to fly to Osaka and its other Japan destinations. The first new aircraft commenced its operation in May of 2018, departing from Singapore's Changi Airport and arriving to Osaka's Kansai International Airport. The one-way trip takes about 7 hours and 30 minutes, and costs around 2,000 Singaporean Dollars.
6. Helsinki to Osaka
At the beginning of 2018, Finnair announced that it would increase its Helsinki-Osaka flights from 5 times a week to everyday. Before the change, Finnair flew between Helsinki Airport and Kansai International Airport on Mondays, Wednesdays, Fridays, Saturdays, and Sundays, departing at 5:25 PM and arriving at 10:00 AM the next day. But, starting the summer of 2018, direct flights have become available daily to satisfy the increasing demand for Japan travel in the region.
7. Melbourne to Osaka
For budget travelers in Australia, take advantage of Jetstar's cheap direct flight offers from Melbourne to Osaka. Every year, the airline company runs special promos and discounted fares for said route for as low as 300 Australian Dollars for a return ticket. No wonder the number of Aussies choosing to spend their vacation time in Japan has shot up greatly in recent years.
About Osaka:
The second largest urban center in Japan, Osaka has a wide array of modern and ancient attractions, like Universal Studios Japan, Osaka Aquarium, Osaka Castle, Dotonbori, Namba, and Umeda. It is also a good base for trips to nearby historic cities like Kyoto and Nara.
Flights to Sapporo
8. Honolulu to Sapporo
To go from nice, tropical weather to cold, below-zero temperatures in under 10 hours, hop on to a direct Hawaiian Airlines flight from Hawaii to Sapporo. The one-way ticket ranges from around 500 US Dollars to 3,000 US Dollars, depending on the season and seat class. There are flights operating everyday, and they depart from Honolulu International Airport and arrive to New Chitose Airport.
9. Kuala Lumpur to Sapporo
AirAsia is a low-cost airline based near Kuala Lumpur in Malaysia that provides a direct connection between Kuala Lumpur and Sapporo. The nonstop flight departs from Kuala Lumpur International Airport and arrives to New Chitose Airport, with a travel time of about 7 hours and 35 minutes. Typically, a one-way ticket costs 1,200 Malaysian Ringgits, but discounted tickets can be had for as low as 500 Malaysian Ringgits.
10. Seoul to Sapporo
Everyday, Asiana Airlines offers nonstop flights from Incheon International Airport to New Chitose Airport. The one-way journey takes 2 hours and 40 minutes, and costs around 320,000 South Korean Wons for an economy seat, and 600,000 South Korean Wons for a business class seat.
About Sapporo:
The capital and biggest city on the northern island of Hokkaido, Sapporo is best known for its mild climate, vibrant snow festival, excellent snow and ski resorts, relaxing natural hot springs, large and vast national parks, delicious ramen, and great quality beer.