The Best Beaches in the World
The Best Beaches in the World
Nothing signifies a vacation in the sun better than a beach. Here we have a little treat for you – a collection of the planets finest – The Best Beaches in the World.
So whether you like to sunbath, snorkel, scuba dive, explore or take in the locals, there is a beach for everyone.
Nungwi, Zanzibar
Renowned by intrepid travelers for its old, romantic Stone Town and 30, yes 30, immaculate beaches.
Many people taking their vacation here tend to head towards the settlement of Nungwi, which is located along the north Zanzibar coast. The extremely shallow shores give travelers the feeling of, quite literally, walking on water. Its sandy beaches are soft on feet and warming between the toes.
The surrounding coral waters of Nungwi are home to plenty of marine life, which make a wonderful natural additional to the perfect beaches.
Boulders Beach, Cape Town
Expect some unusual occupants here at Boulders Beach – Penguins.
There is a colony of about 3,000 African Penguins that have occupied the beach here since 1982. They are also affectionately known as 'Jackass', mainly because of their donkey-like bray.
Although the beach forms part of the Table Mountain National Park, it is located within a residential area. However, it is far the best place to see these vulnerable birds at close range. This is done courtesy of a broadwalk, which gets you within a few meters of them.
Visitors to the beach are restricted in this protected natural environment and are directed to use the adjacent beaches for bathing and swimming.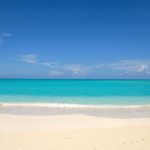 Grace Bay Beach, Providenciales
Best known for its…Humpback Whales!?!
Well, if you're lucky enough to be in the right place at the right time, yes. The majestic whales take the common migration route right through here, passing sometimes very close to the beach itself. However it's probably not the main reason why lots of people visit this area.
Grace Bay Beach forms part of a 40km long island, the beach itself makes up 19km of this! It's one of the finest stretches of sand you'll ever see in the world.
Once a very basic local beach, the tourism infrastructure has developed fast with a number of resorts built to cater for travelers wanting to experience the sugary white sand of the beach.
The surrounding waters are brimming with coral reefs, some of which are very close to the shore, which makes diving a must for any visitor.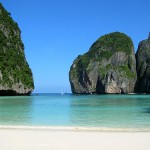 Maya Bay, Ko Phi Phi
Heard of Maya Bay before? Does it ring any bells? How about the Leonardo DiCaprio film 'The Beach'?
Yes, this is where 'The Beach' was filmed so expect lots of tourists. But, I'm sure that the film is not the only reason why travelers visit here.
Maya Bay is made up of a glorious white sand beach that's hugged by steep limestone cliffs. The beauty doesn't just surround the shore, but instead you can find yet more splendour under the waves. The coral reefs that dot the sea floor makes this an excellent spot for snorkelling.
Pulau Perhentian Kecil
Malaysia's Perhentian Islands form part of the Pulau Redang National Marine Park. Why is this important? Fishing, coral collecting and littering are strictly prohibited – making the beaches and waters somewhere that you will instantly fall in love with.
The two main islands are the backpacker-happy Pulau Perhentian Kecil (Small Perhentian Island), and Pulau Perhentian Besar (Big Perhentian Island), which has slightly more expensive accommodation.
You can dive in to the crystal clear blue waters off Pulau Perhentian Kecil and you'll have the chance to swim with the locals, namely sea turtles and an array of small shark species.
Tulum, Mexico
How often can you swim in the shadow of one of the best preserved ancient ruins in the world? Not very. Well, you can here.
The beach here is not the main focal point. Instead that honour goes to the ancient Mayan archeological ruin that teeters on the edge of a sheer cliff. The dramatically situated ruin makes it one of the three big Mayan sites for tourists, the other two being Chichen Itza in Mexico and Tikal in Guatemala.
The area allows for excellent diving experiences, with an array of cenotes and coastline to explore.
Whitehaven Beach, Queensland
Forming part of Whitsunday Islands National Park, Whitehaven Beach has more than 4km of sand – that's so clean it squeaks underfoot.
Visitors to the beach have to register with a tour guide for access, and even then can stay for only a few hours. It's strictly managed, but that's how it maintains its postcard like perfection.
The national park are always hard at work to preserve the beaches status as one of the best in the world. So, acknowledgement from the international community quickly came about and rewarded their efforts. In 2010, the beach won the CNN 'Most Eco Friendly Beach' award.
Coastal areas are visited in the summer months by jellyfish, so if you plan to visit this beach, and go for a swim, a stinger suit is available from your tour boat.
Champagne Beach, Vanuatu
The beach gets it name from the first travelers to the region who witnessed the shallow waters fizzing at low tide, as if the beach itself was swimming in bubbly. However, the joys of science can explain the effect of this 'fizzing' and how its actually caused by gas escaping from volcanic rocks on the sea floor.
Champagne Beach forms a nice crescent of glorious white sand and looks upon a crystal clear lagoon, fringed with coral.
It's a popular tourist destination, particularly with Australian cruise shippers, but even with this popularity it still maintains a quiet, laid-back feel – perfect for relaxing.
Seychelles Beach
Mixing white and tainted pink sands, Seychelles Beach is probably one of the worlds most photographed beaches.
This small, in comparison to some of the other beaches that made the list, ribbon of sand on the Seychelles' third largest island, La Dique, blends the beautiful sandy beaches with large granite boulders – making the area rather picturesque.
The area is ideal for snorkelling, where avid underwater explorers can dive in the shallow waters to take in the coral waters and submerged granite landscape.
Matira Beach, Bora Bora
With perfection comes popularity, and Matira Beach is a prime example of both.
Its soft sands and calm waters have given this beach an almost unrivalled status amongst travelers. Its serenity works together with the vast amount of activities you can participate in, from feeding sharks to looking through World War II memorabilia, there's lots to do here.
There is no doubt that Bora Bora is a tourist heavy destination, but with a beach this good you just couldn't keep it a secret.
Whatever beach you choose to relax or explore, just remember you'll need a Mobal World Phone to keep in touch with family, friends and local services. Even if it's just to boast about where you happen to be.
If you feel we've missed a particular beach off our 'The World's Best Beaches' list, please let us know in the comments section.
Emma is a Online Marketing Specialist at Mobal. She is responsible for our outbound marketing efforts including planning and executing email campaigns, social media and blog posts. She also works with the Web Designers at Mobal to update the website and to help to create a better experience for the user.
5 Replies